Computing System suits in-vehicle and field use.
Press Release Summary: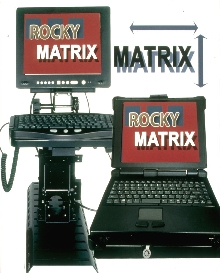 ROCKY Matrix combines rugged notebook computer with in-vehicle computing station consisting of Alpha-Star SRL touchscreen display unit, 89-key backlit keyboard, and vehicle docking station. Matrix notebook is wireless-capable and includes Intel SpeedStep CPU, internal Mini PCI slot, and 2 Type II or 1 Type III PCMCIA slots. Modular platform allows for system upgrades. Display unit has self-illuminating LCD control buttons and 2 standard USB ports.
---
Original Press Release:
New Rocky Matrix Is First All-In-One Solution To Merge A Fully Rugged Notebook With an In-Vehicle Computing Station

January 15, 2002-AMREL SYSTEMS LLC, a division of AMREL Corporation, announced today the availability of their new ROCKY Matrix rugged computing system that was developed in response to customer demand for a solution with the ability to meet both in-vehicle and field use computing needs. The ROCKY Matrix is the FIRST all-in-one solution to combine a fully rugged notebook computer with an in-vehicle computing station (consisting of an AMREL Alpha-Star SRL touchscreen Display Unit, an independent 89-key backlit keyboard, and a customized vehicle docking station).

Utilizing AMREL's DVI technology for component-to-component communication, when docked and in stationary operation, the Matrix functions as a three-piece computer with the notebook acting as the system unit. Each component of the ROCKY Matrix is fully rugged: the Matrix's notebook has been independently certified to both MIL-STD 810F and IP-54 industrial standards; the Matrix's Display Unit has been certified to IP52 and the
independent keyboard carry's the IP-54 certification.

The ROCKY Matrix notebook can be used either independently of or in conjunction with the computing station's Display Unit and independent keyboard. Equipped with its own 89-key BackLit keyboard the Matrix notebook is wireless-capable and features an Intel SpeedStep CPU, an internal Mini PCI slot, and two Type II or one Type III PCMCIA slots. The ROCKY Matrix notebook also incorporates AMREL's "Advanced Modular Platform," which allows for easy system upgrades, integration and field servicing. The system supports a complement of options, including: a removable HDD, and a "Smart Bay" that operates any of the following
interchangeable components: CD-ROM, DVD, FDD, 120MB Super Disk Drive, or Secondary Battery.

The Matrix is user-friendly with an independent BackLit keyboard, which emulates the standard desktop keyboard and includes near standard spaced keys, windows keys, and an integrated PS/2 compatible trackpoint. The Matrix's Display Unit features self-illuminating LCD control buttons, two standard USB ports for expansion capabilities, and AMREL's Alpha-Star high brightness sunlight readable touchscreen LCD. The Display Unit can be mounted on a swivel platform to accommodate users' personal viewing preferences.

The Matrix's unique notebook/in-vehicle design is also available with AMREL's Patriot Federal Gov't/Military Product Line and the CraftPro Telecommunication Product Line.

For specifications and further details contact AMREL.

High-resolution electronic images available upon request
CONTACT: Ariel Phillips, Marketing Coordinator 800-882-6735 or ariel@AMREL.com
AMREL SYSTEMS LLC 11801 Goldring Road, Arcadia, CA 91006
More from Agricultural & Farming Products