Computer Workstations feature 3.4 GHz processor.
Press Release Summary: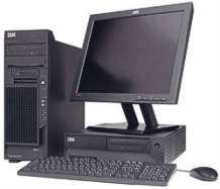 IntelliStation® M Pro Workstations include Intel(TM) Pentium(TM) 4 processors with 800 MHz front side bus and 512 kB L2 cache. They offer choice of dual-head-capable graphics, and choice of hard disk drives include 36.4 GB Ultra320 SMART SCSI, 40 GB ATA-100 EIDE, or 80 GB SATA. Rackmountable minitower unit includes 6 slots, 7 bays, 3 fans, and 340 W power supply, while desktop model offers 4 slots, 3 bays, 2-3 fans, and 200 W power supply.
---
Original Press Release:

New IBM IntelliStation M Pro Models Feature Solid Performance and High-Powered Graphics with Intel 3.4 GHz Pentium 4 Processor


At a glance
New IntelliStation M Pro systems offer advanced technology,
application compatibility, and system reliability.
o Intel Pentium 4 at 3.4 GHz with 800 MHz system bus
o Graphics:
- NVIDIA Quadro NVS 280 for performance 2D
- NVIDIA Quadro4 580XGL or NVIDIA Quadro FX 500 for entry 3D
- NVIDIA Quadro4 980XGL or NVIDIA Quadro FX 1100 for advanced 3D
- NVIDIA Quadro FX 3000 for extreme 3D
o Integrated SATA, ATA-100 EIDE and Ultra320
o Integrated Gigabit Ethernet
o Choice of HDDs with S.M.A.R.T.:
- SATA 80 GB 7,200 rpm
- 36.4 GB 10,000 rpm Ultra320 SCSI
- EIDE 40 GB 7,200 rpm
o Choice of optical devices:
- CD-ROM
- CD-RW
o Minitower model:
- Rack-mountable
- Six slots, seven bays, three fans
- 340-watt power supply
o Desktop model:
- Four slots, three bays, two or three fans
- 200-watt power supply
o Microsoft(TM) Windows(TM) XP Professional
o 623055x with DOS 2k license
o System hardware warranty - On-site three years, parts and
labor

Overview
New models of the IntelliStation® M Pro workstation deliver
high-powered processing speed with Intel(TM) Pentium(TM) 4 processors at 3.4 GHz. This dependable workstation can reduce project turnaround times in engineering, business, media creation, and scientific applications.

Solid performance
o Intel Pentium 4 microprocessor with 800 MHz frontside bus, 512 KB L2 cache
o Up to 4 GB with PC2700 CL2.5 ECC DDR DIMM or PC3200 CL3
ECC DDR DIMM memory
o Integrated:
- Serial ATA (SATA)
- Ultra320 SCSI on SCSI models
- ATA-100 EIDE
o Choice of HDD:
- 36.4 GB 10,000 rpm Ultra320 S.M.A.R.T. SCSI
- 40 GB 7,200 rpm ATA-100 EIDE
- 80 GB 7,200 rpm SATA

Compelling graphics
Your choice of dual-head-capable high-performance graphics:
o NVIDIA Quadro NVS 280
o NVIDIA Quadro4 580XGL
o NVIDIA Quadro4 980XGL
o NVIDIA Quadro FX 500
o NVIDIA Quadro FX 1100
o NVIDIA Quadro FX 3000

Outstanding support
The highly reliable IntelliStation M Pro systems feature a three-year limited warranty on parts and on-site labor.

Planned availability date
April 5, 2004

More from Electrical Equipment & Systems