Computer suits embedded automation applications.
Press Release Summary: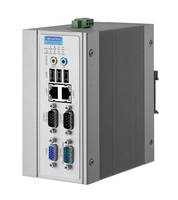 With Intel Celeron M or Pentium M CPU and 512 MB/1 GB DDR SDRAM, UNO-1170 features fanless and diskless design and comes in aluminum chassis. It has 512 Kb SRAM battery back-up system as well as 2 Ethernet, 3 serial (RS-232/422/485), 3 external USB 2.0 ports and one internal secure USB port. Suited for machine builder applications, DIN-rail mountable unit is available with pre-configured Windows CE and XP Embedded image with optimized onboard device drivers.
---
Original Press Release:

Advantech Introduces a New Powerful Embedded Automation Computer



(Cincinnati, Ohio - 01/20/09) - The Industrial Automation Group of Advantech introduces the UNO-1170, an embedded automation computer which features an Intel Celeron M or Pentium M CPU and 512MB/1GB DDR SDRAM. The UNO-1170 provides higher computing power than other device-level controllers and comes in a compact aluminum chassis with fanless and diskless design. The UNO-1170 can operate in temperatures up to 60°C and has a 512KB SRAM battery back-up system in the event of sudden shut down.

There are two Ethernet, three serial (RS-232/422/485), three external USB 2.0 ports and one internal secure USB port. The UNO-1170's front-accessibility makes it convenient for wiring and its DIN-rail design allows easy installation. With rich OS and driver support, such as Windows XP Embedded, WinCE 6.0, and embedded Linux, users can integrate applications easy. The UNO-1170 is available with a pre-configured Windows CE and XP Embedded image with optimized onboard device drivers.

With all these great features, the UNO-1170 is an excellent choice for machine builder applications, such as Electronic Discharge and Industrial Textile machines. To purchase or if you have any questions, please contact Advantech at 1-800-205-7940 or your regional Advantech authorized distributor for more information.

Advantech Corporation, Industrial Automation Group - Founded in 1983, the Industrial Automation Group of Advantech Corporation is a pioneer in eAutomation technology; combining connectivity, flexibility and ruggedness with today's most reliable PC-based automation technologies. Product offerings include: Open HMI platforms, Industrial Ethernet, Automation Controllers, Automation Software, Embedded Automation Computers, Distributed I/O Modules, Plug-in I/O, and Industrial Communication solutions for a wide array of industries. With more than 20 years experience in providing a full range of products to different vertical markets, the Industrial Automation Group is proving to be a globally leading Automation Product and Services provider. US operations for the Industrial Automation Group are based in Cincinnati, OH (800-205-7940).

Advantech Corporation, Industrial Automation Group, 1320 Kemper Meadow Drive, Suite 500, Cincinnati, OH 45240. Website: www.advantech.com/ea. Email: [email protected].

Chuck Harrell
PR/Promotion Manager
Advantech, Industrial Automation Group
513-742-8895 ext 333