Industrial / Specific Purpose Computers
Computer Platforms run Windows, Linux and Solaris.
Press Release Summary: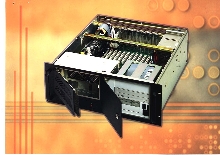 eFUZION-4U/EP, 4U/HP and 4U/MP application ready platforms are available with Windows NT 4, Windows 2000 and Red Hat Linux 7.2, and support Solaris(TM) operating systems. Platforms allow OEMs, VARs, and systems integrators to provide 4U systems that support configurations of multiple ISA or PCI cards for enterprise class customer premise applications such as voicemail, FAX server, and unified messaging services.
---
Original Press Release:
I-Bus/Phoenix Launches eFuzion 4U Application Ready Platforms With Multiple ISA Or PCI Card Support

- Competitively priced, application ready platforms, delivered as turnkey systems, with OS software installed and tested
- Focused entry-level, mid-range and high-end fully configured systems
- Qualified configuration options for Windows, Linux and Solaris(TM) platforms
- Standard range of added value options - UPS, rack cabinet, application specific boards and software all available with corporate branding such as logos or colors
- Available from IBP facilities worldwide, shipping 10 days AAO, on purchases of up to 25 units

San Diego, CA - I-Bus/Phoenix (IBP) introduces eFUZION-4U application ready platforms available with Windows NT 4, Windows 2000 and Red Hat Linux 7.2. The eFUZION-4U line allows OEMs, VARs and Systems Integrators to provide 4U platforms that support configurations of multiple ISA or PCI cards for enterprise class customer premise applications. Delivered as application ready platforms with all hardware and software installed and tested, the eFUZION-4U line is ideal for applications in the enterprise which require stable computer hardware supporting multiple PCI/ISA cards and value-add options like hot-swap power supplies. "Our 4U configurations have been historically very popular in the CTI market with over 10,000 units currently deployed worldwide, supporting a variety of applications such as voicemail, FAX server and unified messaging services," said Johni Chan, IBP's VP of Engineering.

The IBP-designed, 4U rack mount or desktop enclosures, with 400W ATX 12V PSU, offer various levels of integration on the SBC or motherboard to maximize available slots or performance. The base material of the unit is aluminum, leading to a low integrated weight that translates into significant savings on shipping costs. An IDE CD-ROM and 1.44Mb Floppy drive come standard; these can be de-selected if not required. The modularity of the eFUZION design allows value-add options like SCSI DAT drives to be easily integrated at the factory to suit user requirements, enabling IBP customers to leverage additional revenue without significant investment on their part. An extensive range of pre-qualified configuration options, such as network adaptors or extra hard drives, is available to enhance the standard system configuration. OEMs, VARs and Systems Integrators can also make use of IBP's product branding services to customize the look of the chassis to meet product line/corporate needs, and maximize margins by differentiating the computer(s) as part of their overall solution.

The Pentium III eFUZION-4U/EP is ideal for applications that require ISA or PCI board support with minimal CPU power needs. A cost effective and flexible Celeron(R) based, 4U Application Ready Platform (ARP), this platform supports Windows NT, 2000 or Red Hat Linux based operating environments, which require multiple ISA/PCI boards support in a cost-conscious, long life cycle (3+ years), revision controlled package. The 4U-EP supports up to 9 full-length, full-height ISA boards with PCI expansion as well. Passive backplane options, all pre-qualified with the OS, allow customers to quickly re-configure the basic platform to meet their slot-count and type needs. The IBP designed and manufactured enclosure provides dedicated card-bay cooling from two, high MTBF fans with an easily removable drive bay and fan filters for maintenance. The device bay door is lockable for security.

The eFUZION-4U/HP is a powerful and highly scalable, turnkey server application ready platform featuring a new ServerWorks chipset based SBC for Pentium(R) III FC-PGA processors up to 1.26GHz (512k L2 cache) combination. The 4U/HP single processor version will support up to 4Gb ECC Registered SDRAM. The standard backplane supports up to twelve (12) 32bit/33MHz PCI expansion boards with other ISA/PCI backplanes optional as factory fit configuration changes. The 4U/HP is ideal for applications that need powerful processing resources and higher-density expansion capabilities. A dual processor option, using an SBC with the same ServerWorks chipset, provides extra processing power and scalability to 3Gb ECC Registered SDRAM.

The eFUZION-4U/MP is a cost effective and flexible ARP, running on an Intel 440BX chipset/Pentium(R) III FC-PGA processor combination. With support for multiple PCI/ISA I/O boards with single or dual CPU SBC's, the MP is ideal for applications that need a stable, scalable, processing resource. The well proven 440BX/P-Pentium III combination, coupled with the modular enclosure system and IBP's long-life, revision control and design capabilities, make this an ideal platform for products which need long life-cycles and minimal changes to maximize ROI. High levels of integration on the SBC combined with a broad range of pre-qualified configuration options make the eFUZION-4U/MP ideal for re-sellers and OEM's who bid for business on a project by project basis. As with all other FUZION application ready platforms, eFUZION-4U/MP configurations can be quickly adapted to suit individual program needs, without causing concerns over compatibility or delivery lead time.

For more information on FUZION and other I-Bus/Phoenix products, please visit our newly re-designed company web site at www.ibus.com or e-mail us at info@ibus.com.

I-Bus/Phoenix is an ISO-9001 quality-certified world leader in the design, manufacture and support of high performance, industrial-grade power and computer systems. In addition, I-Bus/Phoenix offers customized, partner-oriented services focused on meeting the needs of OEMs including purchasing collaboration, stable supply-chain management, configuration control, and complete system integration and test services. With our "Best of Breed" partners program, we offer complete application ready solutions utilizing technologies developed both in-house and by third party industry leaders, delivered in a collaborative environment to provide the OEM customer a level of global support that ensures success, allowing OEMs to focus on their core competencies, rather than on managing a diverse set of independent vendors.

I-Bus/Phoenix is a Maxwell Technologies Company. Maxwell Technologies applies industry-leading capabilities in power and computing to develop and commercialize electronic components and power and computing systems for customers in multiple industries, including transportation, telecommunications, consumer and industrial electronics, medical and aerospace.

For further information contact:
Denise Serrano
I-Bus/Phoenix
8888 Balboa Avenue
San Diego, CA 92123
Tel: +1 (858) 503-3077 Fax: +1 (858) 503-3005
Email: dserrano@ibus.com

United Kingdom:
Cathy Scales, I-Bus/Phoenix,
Tel: +44 (0) 1243 756441
Email: sales@ibus.co.uk

France: Catherine Kervarec, I-Bus/Phoenix,
Tel: +33 (0) 493 004360
Email: ventes.fr@ibus.com

Germany: Ulrich Diehl, I-Bus/Phoenix,
Tel: +49 (0) 814 246790
Email: verkauf@ibus.com