Computer-on-Module measures just 95 x 95 mm.
Press Release Summary: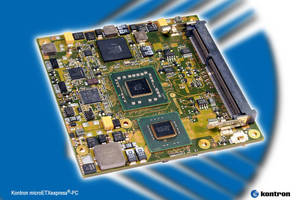 Kontron microETXexpress-PC is based on 45 nm small form factor Intel Core 2 Duo processor up to 1.86 GHz and integrated Intel mobile GS45 express chipset for SFF platforms. Compatible with COM Express specification, following Type 2 pin-out in terms of assignment and physical location, unit suits embedded applications. Device features 4 GB of DDR3 SO-DIMM with FSB of up to 1,066 MHz and 6 MB of L2 cache. Supported operating systems are Linux, VxWORKS, and Windows Vista/XP/XP embedded/CE.
---
Original Press Release:

Kontron MicroETXexpress-PC: Small Form Factor Computer-on-Module with 45nm Intel Core2 Duo Processor



COM Express Type 2 connector offers highest security for small form factor designs

Eching, Germany, February 26, 2009 - The new Kontron microETXexpress-PC brings high-end 45nm Intel Core2 Duo processor performance with optimized power consumption and a full feature set to the smallest COM Express Pinout Type 2 compatible Computer-on-Module.

According to VDC, small form factor Computer-on-Modules are becoming increasingly important and COM Express Type 2 is expected to gain a market share of 72 percent, making it the de facto standard within the COM Express specification. The Kontron microETXexpress-PC therefore offers the highest investment security for small factor designs.

The Kontron microETXexpress-PC Computer-on-Module is 100 percent compatible with the COM Express specification, following the Type 2 pin-out in terms of assignment and physical location. This enables developers to follow the secure development path of the established and future-proof PICMG COM Express specification for quickly designing even smaller high-end solutions for a wide range of embedded applications requiring multi-core performance. These include, for example, 2-in-1 hybrid solutions for simultaneously running two operating systems, applications with sophisticated high-definition graphics such as digital signage and infotainment as well as numerous other data processing intensive applications in the medical, energy, transportation, telecommunication, automation, POS/POI or kiosk sectors.

The Kontron microETXexpress-PC is based on the high performance and low-power 45nm small form factor (SFF) Intel Core 2 Duo processor up to 1.86 GHz and highly integrated Intel mobile GS45 express chipset for SFF platforms. The compact Kontron microETXexpress-PC packs up to 4 GB of DDR3 SO-DIMM with a FSB of up to 1066 MHz and 6MB of L2 cache on a compact Computer-on-Module form factor that measures just 95mm x 95mm. Applications that are extremely power sensitive are well served by the Kontron microETXexpress-PC with 1.2GHz Intel Celeron processor M 722 that offers an optimal performance-per-watt ratio for fanless designs.

All applications will benefit from the extremely rich feature set of the compact Kontron microETXexpress-PC Computer-on-Module that includes state-of-the-art system security via the Intel Trusted Execution Technology and an integrated trusted platform module - TPM 1.2 - for software and data protection. For graphics and video oriented applications, the Kontron microETXexpress-PC features the Intel graphics media accelerator (GMA X4500) and doubles the graphics performance compared to previous Intel based Computer-on-Modules. With DirectX 10, PS 4.0 and DVMT 5.0 it supports the latest APIs for demanding 2D and 3D applications. Dual independent displays with resolutions up to 1080p/i are supported as is 18/24 bit LVDS single or dual-channel graphic performance with 1024 MB of graphic memory, an integrated MPEG2 decoder and H.264. It also supports the latest graphics interfaces such as HDMI and DisplayPort. With the integrated HDCP 1.2 and Intel High Definition Audio even HDMI compliant applications can be easily implemented. If even greater graphics performance is required, the PEG pinout can be used with application-specific expansion cards. The Kontron microETXexpress-PC also offers extensive I/O flexibility with 5x PCI Express x1, 3x SerialATA, 1x PATA and 8x USB 2.0 ports along with Gigabit Ethernet. The bootable PATA enables easy integration of flash storage for operating systems. Like other Kontron Computer-on-Modules, the Kontron microETXexpress-PC complies with the COM Express Extension and therefore supports a wide range power supply from 8.5 V to 18 V.

The compact Kontron microETXexpress-PC Computer-on-Module is available in May 2009 and supports Linux and VxWORKS as well as Windows Vista, Windows XP, XP embedded and CE. The new Kontron microETXexpress-PC will be on show at Embedded World in Nuremberg, Germany, Booth 404, Hall 12.

Permanent Online Links:

Kontron MicroETXexpress-PC: www.kontron.com/products/computeronmodules/com+express/microetxexpress/microetxexpresspc.html

microETXexpress product family:
http://www.kontron.com/products/computeronmodules/com+express/microetxexpress/

microETXexpress Whitepaper:
http://www.kontron.com/_etc/scripts/download/getdownload.php?downloadId=OTAzNA==

COM Express Computer-on-Modules:
http://www.kontron.com/products/computeronmodules/com+express/

Other Computer-on-Module from factors:
http://www.kontron.com/products/computeronmodules/

About Kontron

Kontron designs and manufactures embedded and communications standards-based, rugged COTS and custom solutions for OEMs, systems integrators, and application providers in a variety of markets. Kontron engineering and manufacturing facilities, located throughout Europe, North America, and Asia-Pacific, work together with streamlined global sales and support services to help customers reduce their time-to-market and gain a competitive advantage. Kontron's diverse product portfolio includes: boards & mezzanines, Computer-on-Modules, HMIs & displays, systems & platforms, and rugged & custom capabilities. Kontron is a Premier member of the Intel® Embedded and Communications Alliance and has been a VDC Platinum Vendor for Embedded Computer Boards 5 years running. Kontron is listed on the German TecDAX stock exchange under the symbol "KBC".

For more information, please visit: www.kontron.com

More from Electrical Equipment & Systems