Computer Monitor features thin 0.59 in. frame design.
Press Release Summary: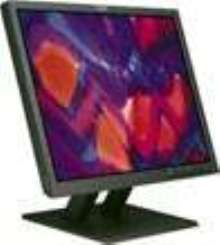 Offering 19 in. viewable image size with 1,280 x 1,024 native resolution, ThinkVision(TM) L191p features ultra thin bezel, which minimizes distances between screen images in multiple monitor environments. Ergonomic stand swivels, tilts, and offers height adjustment. Monitor adjustments are made using intuitively designed on-screen display. Additional features include analog or digital system attachment, dual input, internal power, and lockable digital controls.
---
Original Press Release:

IBM ThinkVision L191p Monitor - View Your Images on a Large Screen Featuring IBM ThinkVantage Design


Overview
The IBM L191p monitor offers an ultra-thin frame design, saving space and minimizing the distance between screen images in a multiple monitor environment.

The incorporated ThinkVantage(TM) design enhances usability which
makes the monitor intuitive and easy to use. It also compliments the ThinkCentre(TM) and ThinkPad® designs. The ThinkVision(TM) L191p is in the Performance category in the ThinkVision family of monitors. It is available in business black.

This monitor is best suited for:
o Multiple monitor applications
o Financial trading floor
o Complex spreadsheets
o Graphic applications
o General business applications

Features
o 19-inch (483-mm) viewable image size
o Native resolution: 1280 x 1024
o ThinkVantage design:
- Ultra narrow thin frame design (0.59 in/15 mm)
- Ergonomic stand swivels, tilts, and offers height adjustment
- Direct access for automatic image setup, brightness, and
input select
- Quick and easy monitor adjustments using intuitively designed on-screen display (OSD)
- Matching design to IBM systems
- Cable management in stand
o Hybrid system connectivity - analog or digital system attachment
o Scaling for viewing of full-page images of resolutions less than 1280 x 1024
o Dual input
o Internal power
o Compatible with optional Kensington lock
o Lockable digital controls

Benefits
o Ultra thin bezel minimizes distances between screen images in multiple monitor environments
o Improved use of space compared to CRT monitors
o Reduced energy use and heat generation to help lower cooling
and power costs compared to CRT monitors
o Flexibility in system attachment with analog and digital input
o Compatible with IBM PC system units
o Quick and easy monitor setup

Planned availability date
November 12, 2004

At a glance
The new ThinkVision L191p LCD monitor offers:
o Viewable image size: 19.0 in (483 mm)
o Brightness: 250 cd/m2 (typical)
o Contrast ratio: 600:1 (typical)
o Viewing angles
- Vertical - +/- 89°
- Horizontal - +/- 89°
o Response time: 20 ms (typical)
o Display native resolution of 1280 x 1024 (automatically scales lower resolution to fill the screen)
o Tilt/swivel and height adjustable stand
o Direct access for automatic image setup, brightness, and input select
o Analog or digital system attachment
o Internal power
o Dual input
o 100 mm Video Electronic Standards Association (VESA) standard for mounting

More from Communication Systems & Equipment