Computer Evaluation Kit offers wide range of interfaces.
Press Release Summary: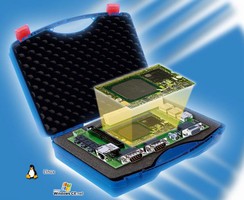 Evaluation kit for development and testing of fanless miniature computers is based on business card-sized computer-on-module X board
equipped with Xscale®-based Intel® 80219 processor. It features 3 USB, 1 LAN, 2 serial UART, and 2 PCI interfaces; AC97-Sound; slot for CompactFlash card; and SODIMM slot. With pre-installed Windows® CE OS, X board has 128 MB on-board DRAM and up to 32 MB Flash, and can support 2 independent displays.

---
Original Press Release:

Comprehensive Starter Kit for Miniature Computers



Deggendorf, Germany, 22 November - Kontron has created a new evaluation kit for developers of fanless miniature computers. It is based on the business card-sized Computer-On-Module X board, which is equipped with a highly integrated Xscale®-based Intel® 80219 processor. Thanks to the wide range of interfaces on the world's smallest COM footprint, system developers can set new records in the ratio of available features to product size. A particular highlight is independent support for two displays.

The starter kit
The starter kit contains everything developers need, right down to the power cord for the power supply, so evaluation can begin immediately. This simplifies and speeds up the development and testing of applications on the target platform and saves the user time and money. The evaluation baseboard for the X board offers the following interfaces: 3x USB, 1x LAN, 2x serial UART interfaces, 2x PCI interfaces for expansion cards, AC97-Sound, plus 1x slot for vibration-free CompactFlash cards, and a SODIMM slot for more RAM. Up to 128 MB on-board DRAM and up to 32 MB on-board Flash are already integrated on the X board. The Windows® CE operating system is pre-installed. The Linux board support package is included on CD-ROM. The X board also supports VxWorks and QNX.

The X-board
The Kontron X-board COM with an Intel® 80219 General Purpose PCI processor is available with either 400 MHz or 600 MHz processing power and carries up to 128 MB of on-board DRAM and up to 32 MB of on-board Flash. It combines the Intel® XScale® core with an integrated PCI bus bridge and smart peripheral interfaces on a surface area only 67 x 49 mm (2.6" x 1.9"). In addition, the new COM features the AC97 Audio CODEC, 16 MB of on-board graphics memory, CRT and LCD/TFT display support providing outstanding graphics and video capabilities with resolutions up to 1280 x 1024 pixels and all of the interfaces needed for mobile multimedia devices. 10/100 Base-T Ethernet, USB 2.0 and the other standard interfaces on the X-board form factor complete the feature set.

Prototypes of the X-board COM and starter kits for Windows CE and Linux are now available so it can be used for testing applications on target platforms immediately, even before the series design has been developed. Pricing for the X-board starts around 175 EUR for small lot sizes (prices vary according to volume).

Kontron not only developed X-board COMs but also the ETX, ETXexpress, DIMM-PC and E²Brain standards and all the other major COM form factors, thus demonstrating its leading position in this high-growth segment of embedded computer technology. No other manufacturer has yet been able to introduce alternative designs with long-term success.

System designs based on COMs
COMs (Computer-On-Modules) are particularly attractive because they can be implemented in embedded systems as add-on components to lower development costs and shorten time-to-market. Only the application-specific peripherals need to be developed - the computer's brain is already in place.

X-board, the next-generation Mini-COM form factor
X board(TM) modules resemble business cards in size (67 x 49 mm, or 2.6" x 1.9") and are fully PCI- and LPC-compatible. They provide all the relevant current interfaces, including USB, LAN and serial interfaces as well as sound and LCD. Because the so-called legacy interfaces (PS/2, floppy and parallel interfaces and ISA bus) are already on their way out, they are not provided for in X-board modules. This means that not only x86 processors but also ARM or MIPS processor architectures can be used for the first time ever and results in a multitude of new application options for the Computer-On-Module standard. The X-board design closes the gap between DIMM-PC and ETX. OEMs, requiring more power than a DIMM-PC can offer and needing fewer features than an ETX provides, are hence perfectly served by the new X-board. For further information on the X-board standard please contact Kontron directly.

Additional information on X-board(TM) on the Internet:
http://kontron-emea.com/x-board
http://www.intel.com/design/network/casestudies/kontron05.htm
White paper: http://kontron-emea.com/downloads/white_papers/xb-intro.pdf
Data sheet: http://kontron-emea.com/downloads/datasheet/X-board-GP8.pdf
Design guide: http://kontron-emea.com/downloads/white_papers/X-Designguide110.pdf
Reference design: http://kontron-emea.com/downloads/white_papers/Kontron_Intel_case_study_v_04.pdf

About Kontron:
A global leader in embedded computer technology and mobile rugged solutions, Kontron supplies a diversified customer base of OEMs, system integrators and application providers in the communications, automation, test and measurement, transportation, medical, military, aerospace and energy markets. The company helps its customers to considerably reduce their time-to-market and to gain a competitive advantage with products including high-performance open computer platforms and systems, single board computers, human-machine interfaces and mobile rugged computers. Kontron employs more than 1,900 people worldwide and has manufacturing facilities in Europe, North America and Asia Pacific. The company is listed on the German TecDAX 30 stock exchange under the symbol "KBC". Kontron is the only European based Premier member in the Intel® Communications Alliance which means earliest access to leading-edge Intel technologies and privileged engineering support.

More from Electronic Components & Devices