Computer Compatible Headsets suit high noise environments.
Press Release Summary: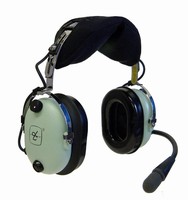 Using noise-canceling, boom-mounted microphones, and offering noise-attenuation, Headsets are designed for PC-based communication applications in industrial/other high-noise areas. Model 40642G-01 has 15 ft extended coil cord terminated with 3.5 mm plugs for earphones and microphones, while Model 40642G-03 has 10 ft straight cord terminated with USB connector. Units feature dual volume controls wired for stereo separation, Comfort-Gel ear seals, double-foam head pad, and universal flex boom.
---
Original Press Release:

David Clark Company Introduces Computer-Compatible Headsets for High Noise Environments



David Clark Company (Worcester, MA) has developed and introduced two new computer-compatible headsets for high noise environments. The headsets combine advanced comfort and noise-attenuating performance features with rugged, yet lightweight construction. They are ideal for PC-based communication applications in industrial or other high-noise areas.

Two computer-compatible models are available - the model 40642G-01 with 15-foot extended coil cord, terminated with 3.5mm plugs for earphones and microphones; and the model 40642G-03 with 10-foot straight cord, terminated with USB connector.

"There has been a substantial increase in voice-over technologies with personal computers over the past few years", says Bob Daigle, Product Manager at David Clark Company, "however, as with two-way radios, the effectiveness of the communication can be greatly diminished in high-noise areas."

The new headsets solve this problem by utilizing noise-canceling, boom-mounted microphones, and providing superior noise-attenuation for clear, crisp communication. The headsets are also equipped with dual volume controls wired for stereo separation. Designed for long periods of use, comfort features include new, undercut, Comfort-Gel ear seals, super-soft, double-foam -head pad and universal flex boom for one-touch microphone placement.

"We are already seeing a great deal of activity regarding the new headsets on our website, online store. These headsets will fill an important need for enhancing PC-based communication in a variety of high-noise areas, including plant environments, construction sites or even isolated enjoyment of online entertainment", says Daigle.

David Clark Company is committed to developing headset systems that provide clear communication in high-noise environments while enhancing the safety and comfort of individuals in the aviation, fire, marine, emergency rescue, construction and a variety of other industries.

For more information about the new computer-compatible headsets from David Clark Company, call 800-298-6235 or visit www.davidclark.com/store to purchase online.

Contact: John Farr, National Sales and Marketing Manager
David Clark Company
Tel: 508-751-5800

More from Agricultural & Farming Products