Computer Chassis accommodates ATX motherboards.
Press Release Summary: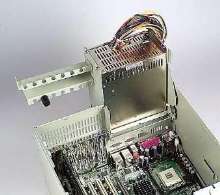 Desktop/wall-mount Model IPC-7220 supports up to 7 add-on cards and allows integration with range of computing peripherals for network control and embedded applications. It provides 2 front-accessible 5.25 in. disk drives, 1 FDD, and 1 internal 3.5 in. HDD. Alarm module monitors system operation conditions and shows status on LED indicators. Shock-resistant drive bay and rubber buffered hold down clamps protect system against harsh environments.
---
Original Press Release:

Advantech Releases Desktop/Wall-Mountable IPC Chassis for ATX Motherboards


Cincinnati, Ohio (December 20, 2004) - Advantech Corporation, Industrial Automation Group is proud to introduce the IPC-7220 industrial computer chassis, a next-generation wall-mountable high capacity industrial node solution for ATX motherboards. Specifically designed for factory floors and other harsh industrial environments, the IPC-7220 is ideal for system integrators or users who require a compact and rugged computing platform. The IPC-7220 supports up to seven add-on cards and allows integration with a wide range of computing peripherals for network control and embedded applications.

The IPC-7220 provides abundant data storage solutions, such as two front-accessible 5.25" disk drives, one FDD and one internal 3.5" HDD. The front-accessible USB and PS/2 keyboard I/O interfaces can be connected to various peripheral devices for data input, backup, and transfer.

The IPC-7220 comes with a unique alarm module. This module monitors system operating conditions such as power, HDD, FAN, and system temperature. It shows system status on the LED indicators visible on the front. In the case of system failure, the module also produces an audible alarm to notify users to take necessary actions.

In order to minimize system down time, the IPC-7220 is enhanced with a unique hinged power supply bracket design for easier access, an easy to replace cooling fan and air filters, and an optional 300/400W ATX redundant power supply. All of these features help users maintain the system quickly and easily

The IPC-7220 can be placed on a desktop or mounted bi-directionally. Using the supplied brackets, theIPC-7220 can easily be bottom or right-mounted onto most surfaces such as walls or workbenches. The shock-resistant drive bay and the rubber buffered hold down clamps protect the system against harsh industrial environments and unexpected shock. The lockable front door prevents any unauthorized access to stored data. These outstanding features make IPC-7220 the best choice for price, performance, and total cost of ownership.

Advantech's new IPC-7220 Industrial Chassis are available for purchase now through Advantech and it's distributors. For more information on this item visit www.advantech.com/ea or call 1-800-800-6889.

Advantech Corporation, Industrial Automation Group - Founded in 1983, the Industrial Automation Group of Advantech Corporation is the only complete PC-based Industrial Automation Solution Manufacturer offering products such as Industrial PCs, Workstations, Panel PCs, Flat Panel Monitors, Heavy Environmental PCs, Customized PCs, Single Board Computers, Data Acquisition & Control Devices and Web-enabled products for a wide array of industries. Drawing on the talents of more than 1,800 people, Advantech operates an extensive sales and marketing network in 16 countries and 35 major cities to deliver fast time-to-market services to our worldwide customers. Today Advantech offers over 700 products and solutions, adding 30 new products each year. US operations for the Industrial Automation Group are based in Cincinnati, OH (877-294-8989). Address: 1320 Kemper Meadow Drive, Suite 500, Cincinnati, Ohio 45240. Web: advantech.com/eAutomation. Email: info@advantech.com

Please visit www.advantech-eautomation.com/media for additional images, releases, and information on Advantech.

Brandon Rhoten
Advantech Corporation, Industrial Automation Group
phone: (513) 742-8895 x333
fax: (513) 742-0554
web: advantech.com/eAutomation
media info: www.advantech-eautomation.com/media


More from Software