Industrial / Specific Purpose Computers
Computer can connect up to 5 touch-screen monitors.
Press Release Summary: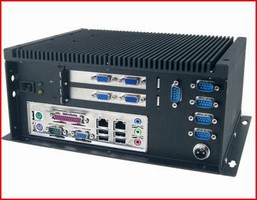 Featuring 1.5 GHz VIA C7 processor with up to 1 GB of DDR400 RAM, BoxPC 240A wall mountable fanless industrial computer suits applications including factory automation, industrial signage, food production, and manufacturing. It is constructed of sealed all metal chassis, and comes with industrial SATA 40 GB HDD at 5,400 rpm. Other features include dual Gigabit RJ-45 ports, 4 USB 2.0 ports, 5 RS-232 COM ports, 1 RS-232/422/485 COM port, and up to five 1,600 x 1,200 VGA ports.
---
Original Press Release:

Arista Corporation Releases BoxPC 240A Fanless Industrial Computer with Dual PCI Expandability, Dual Gigabit Ethernet and AC or DC Power Options



Fremont, California, Arista Corporation is excited to announce the all new BoxPC 240A wall mountable fanless industrial computer. This new product is an ideal solution for automation, industrial signage, food production, manufacturing, capital equipment, medical, assembly, government or any other application that requires an expandable fanless industrial computing solution. An important option for this new product is the ability to connect up to 5 touch screen monitors.

BoxPC 240A Overview
The Arista BoxPC 240A compact fanless industrial computer is designed for flexible deployment in a wide variety of scenarios. Its robust fanless design makes the BoxPC 240A an ideal solution for factory automation, industrial signage, food production, manufacturing, capital equipment, medical, assembly or any other application that requires a compact embedded computing solution. The onboard 1.5GHz VIA C7 processor couples low power consumption with minimal cooling requirements, resulting in stability and longevity. The units advanced design allows for completely fanless computer operations. Mountable in any position, the BoxPC 240A yields an infinite range of installation and integration locations.

External Features & Connectivity
Externally, the BoxPC 240A is packed with industry leading design features. Constructed of a sealed all metal chassis, the design provides protection against moisture, humidity and particulate matter ingress. The BoxPC 240A offers maximum industrial connectivity, including dual Gigabit RJ-45 ports, four USB 2.0 ports, five RS-232 COM ports, one RS-232/422/485 COM port, up to five 1600 x 1200 VGA ports, one LPT printer port, one set of audio & microphone connections and separate KB and MS connectors. The unit offers external access to a CF Type II slot through a separate sealed access panel. To protect against cable disconnection due to high vibration, all vital I/O connections are screw-in, clip-in and secured, including a unique screw-in power connector.

Thermal Performance
Developed from the ground up for low power, low thermal operation, the BoxPC 240's VIA C7 processor is based on the advanced VIA CoolStream(TM) Architecture and manufactured using IBM's state-of-the-art 90nm Silicon-on-Insulator (SOI) process, which delivers the greatest performance per watt in the business. To further incorporate energy and thermal efficiency, the BoxPC 240A features an advanced internal heat sink system with oversized copper cooling pipes which effectively dissipates heat to the external cooling fins.

Functionality
The BoxPC 240A features industry leading processing power with the expandability necessary to fulfill your specific application scenario. The unit incorporates a low voltage 1.5GHz VIA C7 500MHz FSB processor with up to 1GB of DDR400 RAM. The unit comes standard with a Industrial SATA 40GB HDD @ 5400RPM, with up to 160GB Industrial HDD optional. Arista pays special attention to internal cable management with locking SATA cables, clipping and locking connector cables and precisely secured cable groupings.

Environmentally Conscious
Arista focuses on green computing with its environmentally conscious design and energy saving operations. According to a survey by Cornell University, a typical desktop computer can consume over 144 watts of power at maximum operations and upwards of 85 watts when idle. The BoxPC 240A utilizes 54 watts at maximum operations, allowing for energy saving operations. Additionally, Arista utilizes RoHS compliant components, cables and accessories.

ACP Multi-Monitor Thin Client
The Automation Control Products (ACP) ThinManager Suite is an advanced thinclient management software which offers robust and secure thinclient management. ACP ThinManager and Arista were the first to introduce Multi-monitor thinclient monitoring to the global market, and are now proud to extend this series with the addition of the BoxPC 240A-ACP. The unit supports multi-monitor spanning and individual session ghosting on up to 5 monitors with up 1920 x 1200 maximum resolution per monitor.

About Arista
Founded in 1994, Arista Corporation is a designer/manufacturer of mission critical industrial computing products. Arista's diverse product offerings service Semiconductor, Industrial Automation, Test & Measurement, Military, Government, Public Transit, Energy, Medical, Pharmaceutical, Telecom, Petrochemical, Industrial Display, Homeland Security, Advanced Assembly, Manufacturing, Food Processing and beyond.

Arista Products
Arista's product offering consists of Expandable Panel PC's, Fanless Panel Computers, Industrial Thin Clients, ACP ThinManager Enabled Thin Clients, HMI Systems, Fanless BoxPC Computers, MicroBox Computers, Embedded Computers, Wall Mount Computers, Rackmount Computers, Multi-Monitor IPC's, Single Board Computers, Industrial Monitors, OEM/ODM Services and more.

Contact Arista
To discuss you industrial computing needs, contact Arista Corporation at 1.510.226.1800. To learn more about the advanced industrial computing products from Arista Corporation, visit www.GoArista.com or call 1.877.8.ARISTA.

Contact Name: Landon Long
Title: Director of Marketing
E-mail: landon.long@aristaipc.com

Company Name: Arista Corp.
Address 1: 41300 Boyce Road
City: Fremont
State: CA
Zip: 94538
Country: USA
Phone: 1.510.226.1800
URL: www.goarista.com

Related