Compressors employ single-stage rotary screw end.
Press Release Summary: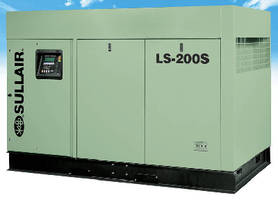 Featuring capacities from 457-980 acfm and pressure ranges of 100-175 psig, 200 hp compressors include models with choice of constant speed drive (LS-200S) or constant speed drive with variable capacity control (VCC-200S and VCC-250S). Variable Capacity Control allows compressor to match pressure and capacity with system demand. Also available, Variable Speed Drive model (V-200S) offers capacities from 576-967 acfm and features flange-mounted motors and air ends.
---
Original Press Release:

Sullair Compressors Offer Widest Model Selection with Outstanding Performance and Lowest Total Cost of Ownership



Michigan City, IN, November, 2009-Sullair Corporation is pleased to announce the redesign of its 200 HP compressors that combine the inherent reliability of Sullair's single-stage rotary screw air end with today's most innovative technology. These versatile compressors are offered with a choice of constant speed drive models, LS-200S, or constant speed drive with variable capacity control, VCC-200S and VCC-250S. These 200 HP compressors have capacities ranging from 457 to 980 acfm, and pressure ranges of 100 to 175 psig. The Variable Speed Drive (VSD) model V-200S, with capacities of 576 to 967 acfm, completes the compressor offering. These compressors have flange-mounted motors and air ends to provide positive alignment and extend bearing life in both.

Variable Capacity Control, achieved with Sullair's spiral valve technology, allows the compressor to match pressure and capacity with system demand. Part load capacity and efficiency can produce energy savings up to 17-30 percent. Providing the highest power factor over the entire frequency range, the V-200S compressor with a Variable Speed Drive (VSD) achieves further part load and full load energy savings.

These Sullair compressors are available with or without sound attenuating enclosures and with a choice of water-cooled or air-cooled models. Designed to meet modern industry's most stringent requirements for performance and reliability, all models feature Sullair's Multi-Stage Air Fluid Separation with a dual nested Optimizer(TM) separator element to minimize fluid carryover. The Optimalair(TM) heavy-duty air intake filter provides the finest inlet filtration in the industry while reducing pressure drop for additional energy savings throughout its operating life. The Sullair compressors also feature the most advanced upgrade of Sullair's Supervisor(TM) Controller. This computer-compatible microprocessor control unit provides critical operating information using simple graphics of monitored functions and easy-to-use stop/start, sequencing and activation controls.

Sullair is one of the world's leading compressor manufacturers, and is the only air compressor manufacturer to concentrate exclusively on rotary screw technology. Sullair has been an industry leader and innovator since 1965. With subsidiaries in France, China and Australia, Sullair is also a globally recognized manufacturer of compressed air treatment equipment, vacuum systems, portable compressors, and contractors' air tools.

CONTACT
Judi Seal
Marketing Communications Manager
Sullair Americas
Sullair Corporation
PH: 219-861-5089
eFX: 860-353-5779
e-mail: judi.seal@sullair.com

TECHNICAL CONTACT
Tom Cassler
Product Manager
Sullair Industrial Products
Sullair Corporation
PH: 219-861-5159
FX: 219-874-1273
e-mail: tom.cassler@sullair.com

More from Mechanical Components and Assemblies