Compressor Control System ensures peak operational efficiency.
Press Release Summary: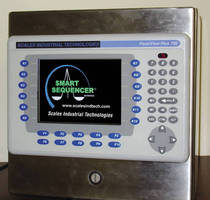 Supplied pre-programmed with information unique to user's compressed air system, $mart Sequencer® Controller continuously monitors plant compressed air pressure and demand. By combining monitored data with data stored in memory, system ensures minimum power is consumed to meet plant's compressed air demand. $mart Sequencer displays compressor status, system pressure, and compressed air demand, and includes alarm screen that displays up to 1,000 alarms with time and date stamps.
---
Original Press Release:

Every Multiple Compressor System Can Save With a $mart Sequencer



When it comes to saving energy one company stands out...Scales Industrial Technologies.

West Paterson, NJ, -- January 13, 2009 - Scales Industrial Technologies, the leading provider of industrial air compressors, cooling systems, and medical compressed air and vacuum in the Northeast, is proud to offer the latest version of our patented $mart Sequencer® Controller. The $mart Sequencer controls compressors so that they operate at their peak efficiency and in the right sequence. Our nation's focus on energy saving measures, particularly when combined with the current economic climate, makes the $mart Sequencer a sensible choice for reducing your plant's energy usage and cost.

Each $mart Sequencer® system comes pre-programmed with information unique to your compressed air system. Information such as individual compressor capacities, types of compressors and plant operating pressure set points are stored. The $mart Sequencer® will continuously monitor plant compressed air pressure and demand.

By combining the monitored data with the data stored in memory, the system will ensure the minimum power is being consumed to meet your plant's compressed air demand. When there is excess capacity on line, the $mart Sequencer® knows what compressor to operate at part load and which compressor to turn off and place in automatic stand-by mode. Maintenance and repair costs will be reduces by running only the compressors necessary to meet varying production demands.

One $mart Sequencer® can control as many compressors as necessary, up to 1 1/2 miles apart.

Additional Benefits

--Displays compressor status, system pressure and compressed air demand (SCFM).

--Monitors and displays overall system efficiency in SCFM per kilowatt.

--Alarms and alarm history. The alarm screen can display up to 1000 alarms with individual time and date stamps.

--Set point screens are password protected so that only authorized personnel with the password can change system variables.

--Permits manual control for compressor maintenance or testing purposes.

--Can satisfy other optional customer requirements, such as, monitoring compressed air dew point, cooling water temperatures, ambient air temperatures, and others.

--An optional SCADA system can monitor and control your system from a remote offsite location if desired. This optional system has the ability to also monitor other utilities in your facility, for example, boilers, chillers, pumps, HVAC, etc.

Scales Industrial Technologies is the proud winner of the Plant Engineering Product of the Year Award for our Smart Sequencer panel.

For additional information about the $mart Sequencer, visit

http://www.scalesair.com/equipment/compressorcontrol/index.php

or download the PDF brochure from
http://www.scalesair.com/assets/pdfs/Scales_Smart_Sequencer2007.pdf

About Scales Industrial Technologies

Scales Industrial Technologies designs and produces air compressor control systems to improve plant productivity and reduce operating costs. For over 40 years, industry has depended on Scales Industrial Technologies for our unmatched commitment to exceeding our customers' expectations. We are also a leading supplier of preventative maintenance programs, process gas equipment repairs and energy management systems. In 2005 another milestone was achieved when our company became an employee owned company [ESOP].

We continue to make investments in equipment, systems, and the best people. We have structured our company to provide the fastest response and most effective service to meet ever-changing technology and customer needs. No other service company matches Scales Industrial Technologies for total customer care. Today, more than ever, we strive to "exceed your expectations."

http://www.scalesair.com/

Scales Industrial Technologies

185 Lackawanna Ave.

West Paterson, NJ 07924

For more information, contact:

Niff Ambrosino

General Manager

[email protected]