Miscellaneous Management Systems
Compressor Analyzer monitors, manages, and controls via Net.
Press Release Summary: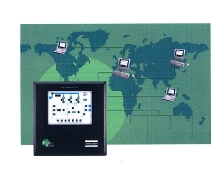 ES Millennium has central controller and monitoring system that can control compressors and provide remote 24 hr monitoring via Local Area Network, Internet, or both. Each compressor's operational data can be sent via Internet to secure central warehouse, where specialists analyze data, plan for maintenance to avoid damage or production loss before it happens, suggest improvements to overall compressor setup, and propose energy optimizations.
---
Original Press Release:

Atlas Copco ES Millennium Allows for 24/24h Service and Energy Savings


With the new ES Millennium, Atlas Copco Compressor Technique introduces a total, but flexible solution for managing multiple compressor installations. Through a novel 24 hour service concept, intelligent machine control and extensive remote monitoring, Atlas Copco can take on full responsibility of the entire compressor room. At the same time, significant energy savings are obtained by optimally controlling the individual compressors.

A new level of service

To many industrial facilities, quality compressed air is a vital resource, but managing a compressor room is considered to be a non-core activity. To meet with this trend, Atlas Copco can now offer a highly automated 24 hour monitoring service, combined with a strict service level agreement. Because each individual compressor's operational data can be sent via the Internet to a secured central warehouse, Atlas Copco specialists can analyse those data, pro-actively plan for maintenance, avoid damage or production loss before it happens, suggest improvements to the overall compressor setup and propose energy optimisations.

The ES Millennium family

A key component in the new service approach is the ES Millennium central controller and monitoring system. Depending on the options, this system will optimally control all compressors in the compressor room and offer remote monitoring via the LAN (Local Area Network), via the Internet, or both.

The ES Millennium series is built around proven microprocessor technology and a flat TFT touch screen, without any moving parts, for extreme reliability. The system is highly modular and field upgradeable. A wide variety of communication options range from simple RS-232C and current loop interfaces to Modbus, Profibus or internet connections.

Smart control reduces the cost of air

The control software behind ES Millennium is extremely sophisticated. The built-in algorithms continuously compute real-time data and combine those with customer preferences, machine parameters and compressor room specifics. A scoring system, based on artificial intelligence techniques, allows every compressor room to be highly optimised, whatever the configuration.

Because the ES Millennium maintains the optimal mix of compressors, based on the measured air delivery, the required pressure band is a fraction of a non-regulated system. Since each bar in reduction saves 7% in energy consumption and lowers the average leak losses in an air system by 13%, the energy savings are significant.

In addition, the ES Millennium will ensure the exact pressure without under- or overshoots, allowing for much tighter limits and more energy savings. It will select the most suitable compressor combination at all times and guarantee that each compressor operates in its optimal working zone.

For more information contact Atlas Copco Compressors, Inc., 161 Lower Westfield Road, Holyoke, MA 01040. Telephone: 413-536-0600 or visit our web site at www.atlascopco.com

More from Test & Measurement