Compression Tube Fittings are rated at 15,000 psi.
Press Release Summary: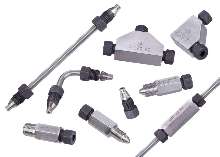 Designed to eliminate cone and thread installation for fluid instrumentation users, rapid-assembly fittings come in 15 component shapes. Using compression sealing technique, they provide single-piece, vibration-resistant solution for common connection requirements. MPI tube fittings are available in sizes to suit tubing with ODs from ¼-¾ in. and include straight, 45°, and 90° shapes that combine MPI tube stub end with connector for existing instrumentation.
---
Original Press Release:

15,000 psi-Rated Compression Tube Fittings Deliver Over Tenfold Time Savings for Instrumentation Users


o 15 new options complete portfolio for eliminating 'cone & thread' installation

Huntsville, AL, July 19, 2004 --- Time-consuming cone-and-thread preparation can be a thing of the past for fluid instrumentation users now that Parker Instrumentation has completed its breakthrough family of rapid-assembly 15,000PSI compression tube fittings. With the release of 15 new component shapes, Parker Instrumentation now offers flow arrangements providing an efficient single-piece solution for virtually every common connection requirement.

Using the familiar, industry-standard compression sealing technique - which assembles in seconds by simply tightening a nut - Parker's new MPI fittings save an estimated 20 minutes at least per connection, a time that probably equates to at least 10 dollars of labor cost. The new fittings are also inherently resistant to vibration, eliminating the additional cost of the vibration gland that is commonly used with cone-and-thread fittings.

For panel builders and OEMs who currently use, say, 1000 higher pressure cone and thread connectors a year, the labor savings alone from switching to MPI equate to around $10,000 - without considering the cost of the special tools required for coning and threading. If these connections were also destined for vibration-prone environments such as drilling platforms and required a vibration gland, the savings total would more than double.

Parker's MPI tube fitting range is available in a range of instrumentation sizes to suit tubing with outside diameters from 1/4 to 3/4inch. The initial complement of common fitting shapes such as straight connections, elbow and tee joints is now extended with a large portfolio of flow arrangements and adapting interfaces.

Among the additions are tube versions in straight or 45 and 90 degree elbow shapes. There are a variety of new adapting options that combine an MPI tube stub end with a connector for existing instrumentation including: NPT pipe threads, flare connections, SAE O-ring connectors and traditional cone-and-thread. There is also a similar collection of straight connector adaptors with the addition of a variant for high-pressure hose connections.

The new fittings may be used on cold-drawn hard (unannealed) 316 stainless steel tubing, or thick-walled (annealed) instrumentation-grade 316 tubing. The fittings also feature nuts coated with molybdenum disulphide, which provides a long-lasting lubricant to help prevent thread galling, and reduces the torque required to create the seal - easing both assembly and the remaking of joints.

Special anti-vibration measures employed in MPI's design automatically provide a high degree of immunity to vibration, and include the action of the ferrules which are spring loaded at assembly - giving additional support for the tube as well as providing a leak tight joint. In contrast, a cone and thread joint necessitates a highly precise mechanical fit in order to create a seal, and it is not uncommon for these joints to work loose - necessitating tightening or even reseating; if such maintenance is required in the field, the associated downtime costs can be excessive. MPI fittings offer the same kind of 'fit and forget' sealing performance as the general-purpose twin-ferrule fittings that are familiar to every plant engineer.

Among the application sectors that can benefit from this innovation are deepwater oil and gas drilling and methanol injection equipment, and industrial laboratories where products are developed and tested under extreme conditions. Instrumentation engineers working in areas such as these can now assemble tubing systems in a small fraction of the time previously required. They also avoid the need for specialized training in installing traditional high-pressure fittings, and the close attention to quality control procedures typically required during assembly.

MPI's ability to operate at much higher pressures comes from a combination of design factors. These include: new geometries for the ferrules which create a dual mechanical hold onto the tubing wall; the application of Parker's exclusive Suparcase hardening treatment to both of these ferrules for enhanced ability to bite into tubing; longer tube supporting areas within the fittings to enhance resistance to vibration and line loads; and the use of 'inverted' threads (swapping the sides on which male and female threads are used). This latter technique allows the pressure-retaining elements of the tube fitting to be made thicker without substantially increasing either the size or weight of the fittings.

Safety assurance was a key goal behind the development of these new higher pressure fittings. As the fittings are based on familiar compression assembly techniques, Parker has designed the component parts in such a way there is no possibility of accidental intermixing with low pressure ferrules for example, or of component interchange with any other fitting. Furthermore, the maximum working pressures of the parts are printed on the bodies of MPI fittings, along with heat code traceability information.

"It can take 30 minutes or more to create the cone and thread required for high pressure fittings", says Kevin Burke, Parker's Product Marketing Manager. "MPI can cut assembly time to seconds, delivering major savings in installation costs, and allowing a common style of tube fittings to be applied plant-wide."

The cone and thread system. The typical 'twin ferrule' compression tube fitting on the industrial market today is specified for operation at up to around 6,000 PSI (sometimes as high as 10,000 PSI for some smaller sizes of tube). The ferrules inside these fittings are not capable of creating an adequate hold onto the thicker walled tubing typically used for higher pressure operation, and even if it could be achieved, the fitting bodies are too thin to withstand the forces and are likely to distort. A number of fittings have been developed to solve this problem. They typically use a 'cone and thread' principle, whereby the tubing does not simply abutt into a fitting, but enters a countersunk arrangement - which demands that the tube end is chamfered. For a good joint, these 'cone' ends must be precision-made (usually on site), with a fine surface finish. The end of the tubing must then be threaded (again, in the field) to allow the tubing to be assembled hard against the joint. It can take up to half an hour each to perform the coning and threading operations. These 'on site' operations are often carried out without any formal quality control or tooling inspection procedures that would help to ensure accurate and measured surface finishes are achieved.

Background information.Parker Instrumentation provides tube fittings, valves, manifolds and enclosures for process and plant instrumentation in sectors including oil and gas, petrochemical/chemical, alternate fuels, pulp and paper, and analytical/high purity. The organization is a division of Parker Hannifin - worldwide leader in motion, control and critical flow components and systems for instrumentation, industrial and aerospace markets. For more details please contact:

For further information please contact:

Parker Hannifin
Instrumentation Products Division
1005 A Cleaner Way
Huntsville, Alabama 35805-6708
Tel: 256 881-2040
Fax: 256 881-5072
Email: ipdsales@parker.com

MPI is a trademark of Parker Hannifin.

More from Test & Measurement