Compression Springs support high loads with minimal bulk.
Press Release Summary: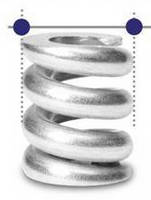 Intended for those requiring firm but not rigid springs designed with slender profiles, High Pressure Series Compression Springs comprise 144 slender parts packed with pressure ratings of 300, 400, and 500 psi. Products are manufactured in 17-7PH stainless steel and are passivated, shot peened, and preset for corrosion resistance, strength, and toughness. Springs suit small spaces and such applications as ball plungers, quick change tools, switches, safety relief valves, and vise clamps.
---
Original Press Release:

New Compression Spring Line Offers Very High Spring Rates Without the Bulk



Brooklyn NY … Lee Spring's newest Stock Spring solution is a unique line of low index, High Pressure Compression Springs. In the past, customers found high spring rates only in the largest stock compression spring sizes or in custom designs. The Lee Spring engineering team that introduced BANTAM™ Mini and Lite Pressure™ Compression Springs is back with yet another application driven stock product line. They carefully designed an offering of 144 slender parts packed with high load capacities, rated to pressures of 300, 400, and 500 psi. High Pressure Series Compression Springs in 17-7PH Stainless Steel are passivated, shot peened, and preset, providing a balance of corrosion resistance, high strength, and toughness. This line is ideal for anyone in need of firm yet not rigid springs designed with slender profiles, suitable for small spaces and common applications such as:

• Ball plungers

• Quick change tools

• Switches

• Safety relief valves

• Vise clamps ... and many more!



For more information on High Pressure Compression Springs or the 22,000 other stock products in the Lee Spring 2014 Catalog, visit leespring.com, email sales@leespring or call 1.888.777.4647.



LEE SPRING GLOBAL HEADQUARTERS 

140 FIFTY EIGHTH STREET 

BROOKLYN NY 11220



About Lee Spring

Lee Spring is an ISO 9001 Certified manufacturer of stock and custom mechanical springs and allied parts, servicing diverse manufacturing markets in the United States and in over 90 countries throughout the world. All Lee Spring Stock Products except MIL SPEC Springs meet stringent RoHS and REACH environmental standards. In addition to country specific catalogs, Lee Spring has a comprehensive, educational and ecommerce friendly global website. Lee offers extensive Custom services for the production of Springs, Wire Forms, Washers, Stampings, Four Slide Parts and Assemblies. Custom designs in a variety of materials are offered through RFQ submission on leespring.com, sales@leespring.com, by fax to 888.426.6655, or by calling 888 SPRINGS. Lee Spring is headquartered in Brooklyn, NY USA and has multiple locations in the United States, as well as locations in Europe, Mexico, China and India.



Contact Randy Marsters, rmarsters@leespring.com or 718-362-5153.

More from Agricultural & Farming Products