Compression Fixture improves composite testing.
Press Release Summary: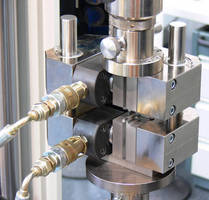 Hydraulic composites compression fixture (HCCF) improves specimen handling, enables different specimen geometries to be tested, and ensures reproducible results due to exact alignment. Designed to eliminate problems associated with compression test performed on carbon-fiber composite materials, product promotes control and shortens testing times. Flexibility allows different shapes of specimens to be tested, and versions that can be used from -60 and +150°C are also available.
---
Original Press Release:

New Zwick Compression Fixture and Extended Software Improves Composite Testing



Zwick Roell, Ulm, Germany: Zwick Roell, a leading supplier of test equipment to the fibre composite industry, has introduced the hydraulic composites compression fixture (HCCF), which improves specimen handling, enables different specimen geometries to be tested and guarantees reproducible results due to exact alignment. Found to deliver good results following tests carried out by a major European aircraft manufacturer in 2010, the HCCF was developed and patented by IMA Materialforschung und Anwendungstechnik GmbH in Dresden, Germany. It is produced and marketed by Zwick.

The compression test is one of the most important tests performed on carbon-fibre composite materials. However, it can be a challenging test to perform accurately because introducing the load to the specimen is problematic and flexure and stress peaks can easily lead to erroneous test results.

The new HCCF from Zwick eliminates these problems and gives better control during tests. It enables shorter testing times, avoids errors and is very flexible, allowing different shapes of specimens to be tested. Compliant with the important Airbus AITM 1-0008 industry standard, the HCCF can also be used for notch compression tests (OHC, FHC) to AITM 1-0008. Versions that can be used at temperatures of between -60 °C and +150 °C are also available.

Zwick has also updated its testXpert II software to include an expanded range of standard test programs for the composites industry. As well as producing suitable testing machines and fixtures, the company can now supply more than 40 standard test programs for composites. Test programs are available for all established types of test (such as tensile, compression, interlaminar shear strength, flexure, shear etc.) and all standards (such as ISO, EN, ASTM, Airbus AITM, Boeing BSS).

More details on the HCCF and testXpert II, as well as the complete Zwick product range for composites testing, are available at www.zwick.com

About the Zwick Roell Group

Zwick Roell Group customers benefit from more than 150 years of experience in the manufacturing of high quality testing systems. Zwick is the global leader in static testing and is experiencing significant growth with its dynamic test systems. A financially strong and family run business, its innovative product developments, diverse product range, and global support provide tailored solutions targeted specifically at the needs of both Research and Development and Quality Assurance customers. Serving more than 20 industry sectors with 960 employees, via manufacturing facilities in Germany, regional headquarters in Atlanta, Georgia, USA and Singapore, as well as offices in 56 countries worldwide, the brand name Zwick is a guarantee of the highest quality and support. For more information see: www.zwick.com


Related