Compressed Air Filters exhibit minimal pressure differential/loss.
Press Release Summary: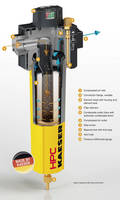 Deep-pleat KE (KAESER Extra) aerosol filters achieve residual aerosol content of 0.01 mg/m³ and saturation differential pressure of no more than 200 mbar. Range covers 4 element grades for filtration of aerosols, dust, and oil vapors so that compressed air can be treated to suit needs of specific application in accordance with ISO 8573-1 purity classes. Suitable for pressures up to 16 bar at temperatures of up to 66°C, there are 9 model sizes for flow volumes from 21.2–501.5 cfm.
---
Original Press Release:

Filters Provide Pure Compressed Air with Optimum Efficiency



The need for quality compressed air filtered to a range of purity levels in accordance with standards such as ISO 8573-1 is an essential requirement for many manufacturing applications.  Furthermore, the additional challenges of meeting minimal pressure differentials along with demands for improved energy efficiency, are other important factors.  The latest generation of high performance FILTERS developed by HPC KAESER are the ideal solution providing efficient filtration for flow rates from 0.60 to 14.20 m³ /min (21.2 to 501.5 cfm) and with minimal pressure differential.



The efficiency of a compressed air filter largely depends on minimising pressure loss which is why HPC KAESER filters are characterised by generously dimensioned housings and filter surfaces along with innovative flow-through and high performance filter media.  These features result in up to 50% less pressure loss in comparison to other typically available filters and an overall performance which remains constant throughout their service life.  The recently introduced deep-pleat KE (KAESER Extra) aerosol filters achieve a residual aerosol content of 0.01 mg/m³ and a saturation differential pressure of no more than 200 mbar.



Low pressure differential means lower energy consumption.  However, this in itself is of limited benefit if the corresponding filter cannot deliver the required compressed air quality. HPC KAESER filters are designed to deliver both, with their performance characteristics determined in accordance with ISO 12500-1 and the quality standard for their filters being tested and verified by an independent body.



The range covers four different element grades for effective filtration of aerosols, dust and oil vapours so that compressed air can be treated to suit the needs of the specific application in accordance with ISO 8573-1 purity classes.  They are suitable for pressures up to 16 bar at temperatures of up to 66° C and are available in nine model sizes for flow volumes up to 14.2 m³/min (501.5 cfm).



An important part of the design brief for these new filters was the ability to achieve tailored compressed air purity combined with maximum efficiency and this has been achieved thanks to the completely redesigned element head.  The innovative new HPC KAESER design gently redirects the air flow so that it is evenly distributed across the filter media.  This is a patented in-house development and the result of decades of compressed air engineering expertise.



Other features include quick and easy element replacement via a bayonet fitting which connects the filter head and housing.  This includes an integrated positive positioning guide which ensures that the housing and element are always correctly joined following filter element and seal replacement.  A stop screw fixes the housing in its final position and seals it at the same time. If improperly assembled, the connection will not close and compressed air can be heard escaping.  The durable, easy-to-install filter housings are made of corrosion resistant aluminium and are coated with a passivation layer to ensure long, dependable service life.



Two model options, the KB and KE grade filters, are also available with either ECO-DRAIN 30 or ECO-DRAIN 31F electronic condensate drain that are supplied complete with a rotatable angle ball valve for quick, effective and versatile connection of the condensate drains to the filter housing.  The ECO-DRAIN 31F option features a maintenance management system that not only monitors its own service interval but also that of the connected compressed air filter element. Service interval status is indicated via LEDs and a floating warning contact.



To complete the package and to simplify installation, interchangeable compressed air connection flanges of various nominal sizes are available along with a comprehensive selection of accessories to suit the majority of compressed air filtration applications.



Further information is available from:

Mark Sharman, HPC Compressed Air Systems

mark.sharman@hpcplc.co.uk        

www.hpccompressors.co.uk

Victoria Gardens, Burgess Hill, West Sussex RH15 9RQ, UK         

Tel: +44 (0) 1444 241671



New Product Press Release issued for HPC Kaeser by:



Andrew Harvey -

Harvey Communication    

admin@harveycomms.co.uk           

www.harveycomms.co.uk    

Tel: +44 (0) 1342 714447

More from Architectural & Civil Engineering Products