Comprehensive RFID Timing Solution for Cycle Races Secures Accuracy, Efficiency and Event Experience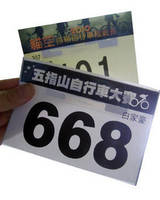 (UPM Raflatac, Tampere) - The Taiwan Bike Association is utilising an RFID-enabled timing solution, Cycling Challenge, to ensure the ease and accuracy of time-taking and the processes generating results in bicycle races. Thanks to the RFID solution, racers at the finishing line can immediately enquire about their racing time and also receive a personalised certificate and data concerning their performance. The timing solution by Bicom Information Technology, Inc. utilises DogBone UHF RFID inlays from UPM Raflatac. In addition to the five races organised annually by The Taiwan Bike Association, the RFID-enabled timing solution will be used at a hundred other cycle races arranged in Taiwan.

Player qualification and a chip checkpoint where players confirm the identity stored in the chip data are located next to the registration station. Labels with embedded RFID inlays are printed with racer information such as name, number and emergency contact details as a safety precaution, and attached to each racer's helmet. The starting and finishing lines are each equipped with four antennas and a UHF reader which records the departure and arrival times of each racer. After the race, the RFID solution can provide instant certificate printout and the event organizers are able to announce the final ranking without delay.

The Cycling Challenge RFID solution utilises UPM Raflatac DogBone RFID inlays due to their excellent performance and stable readability over long distances as well as in close proximity to a number of other RFID inlays.

"Real-time features enabled by RFID technology, such as ranking and performance data queries, are an asset to the race service management: the processing times and required staff are substantially reduced compared to other timing solutions," says Joy Tsai, Project Manager at Bicom Information Technology.

"A timing solution utilising passive RFID technology is in many ways carefree, and the ease of use contributes to a pleasant event experience for organizers and racers alike. With relatively low cost passive RFID tags, there's no need to arrange any kind of deposit system and everyone involved can trust that the chance of human error in time-taking has been eliminated," says Edward Lu, Sales and Marketing Director, Asia, RFID, UPM Raflatac.

For further information, please contact:
Mr Edward Lu, Sales and Marketing Director, Asia, RFID, UPM Raflatac, tel.
+65 9173 0884

About UPM Raflatac
UPM Raflatac, part of UPM's Engineered Materials business group, is one of the world's leading suppliers of self-adhesive label materials and the world's number one producer of HF and UHF radio frequency identification (RFID) tags and inlays. UPM Raflatac has a global service network consisting of 13 factories on five continents and a broad network of sales offices and slitting and distribution terminals worldwide. UPM Raflatac employs 2,600 people and made sales of approximately EUR 0.95 billion (USD
1.3 billion) in 2009. Further information is available at www.upmrfid.com.

Bicom Information Technology, Inc
Bicom Information Technology, located in Taipei, Taiwan, was founded in 1992. The company's main products are radio frequency recognition applications, telecommunications value-added systems and digital signage.

Positioned as an innovative applications and solutions provider, Bicom Information Technology is currently the chosen partner in RFID solutions for a number of communications equipment companies and international manufacturers in Taiwan. Further information is available at www.bicom.com.tw.

More from Fluid & Gas Flow Equipment