Compound V1289-75 FluoroElastomer offers methanol swell resistance.
Press Release Summary: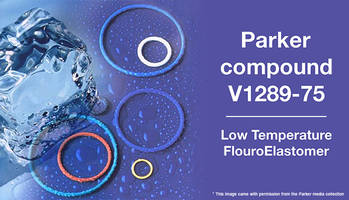 Designed to have low temperature properties, Compound V1289-75 FluoroElastomer offers fuel resistance and mechanical properties. Providing sealing force down to -40° C, unit comes with lesser volume swell in fuels. Product is suitable for aerospace, oil and gas, automotive biodiesel and environment applications.
---
Original Press Release:
Zatkoff Solutions in New Low Temperature FluoroElastomer from Parker Offer you Stronger Sealing Results
At Zatkoff Seals and Packings we get excited when we can offer new, cutting edge and more effective solutions to our customers. That's why we're so excited that we can now offer our customers products created with Compound V1289-75 from Parker.
Low temperature performance has long been the Achilles' heel of fluorocarbon elastomer technology.
However, V1289-75 is a new low temperature (-40°C TR-10) fluorocarbon material, which offers superior low temp sealing properties. Compared to existing GLT - type fluorocarbons, V1289-75 has comparable fuel resistance and mechanical properties. In automotive, oil and gas and aerospace environments, this great new material has passed leakage testing requirements at -40°C.
Designed to have the best low temperature properties of any fluorocarbon rubber compound currently available, Compound V1289-75 exceeds all other fluorocarbon materials tested to date.
As rubber compounds approach their TR-10 temperature, they lose the ability to spring back. Compound V1289-75 continues to show excellent sealing force down to -40°C while A-type fluorocarbon materials lose sealing contact at around-18°C. It also shows a compatible level of methanol swell resistance as other compounds used in similar ways.
The benefits of products made with V1289-75 include better high temperature ratings than nitrile, and both better temperature ratings and better wear and tear resistance than fluorosilicone.
V1289-75 also has lower volume swell in fuels than fluorosilicone and nitrile, better compression set than nitrile, and NO dry-out shrinkage. It also boasts a low temperature rating better than AMS-R-83485 FKM and AMS 7276 FKM.
Due to these clear advantages, V1289-75 gives an improved performance as an alternative to other fluorocarbon materials for many applications.
Just Some of the Environments in which V1289-75 thrives:
Aerospace
MIL-PRF-5606
MIL-PRF-83282
MIL-PRF-87257 hydraulics
Jet fuel
Biojet
HTS turbine oils (MIL-PRF-23699)
Bleed air
Oil and Gas
Well completion systems
Horizontal drilling and fracturing
Natural gas extraction
Sliding sleeve systems
Plug and perforating systems
MWD vibration dampening
MWD compensator membrane
Hydraulic pump seals
High pressure valves
Automotive
Automotive fuel systems
Automotive engine oil and transmission fluids
Biodiesel
Wet and contaminated biodiesel
Environment
In our constant quest for innovation, and discovery of the best new products for our clients, we are thrilled to be able to offer our customers this new, more efficient, flexible, durable, and therefore cost effective material for their sealing solutions.
We understand how important quality is, and when we find a superior product, we strive to be the first in discovering the ways in which we can put it to use for you.
Call us today for superior solutions that work for you!
Contact:
Zatkoff Seals & Packings
23230 Industrial Park
Farmington Hills, MI, 48335-2850
Phone: 248-478-2400
Related