Compound suits potting and encapsulation applications.
Press Release Summary: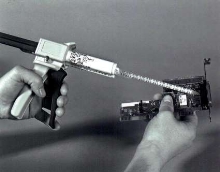 Two-component Master Bond EP30DP epoxy/urethane elastomer can be cast in thick cross sections without development of undue exotherm during cure. With service operating temperature of -80 to +250°F, product is formulated to cure at room temperature or more rapidly at elevated temperatures. Cured compound offers abrasion resistance and electrical insulation. Polymer system has Shore A hardness of 85, is 100% reactive, and does not contain solvents or dilutents.
---
Original Press Release:
Potting Compound Has Superior Toughness

Master Bond EP30DP is a new two component epoxy/urethane elastomer introduced by Master Bond Inc., Hackensack, N.J. for potting and encapsulation applications. It offers superior strength, abrasion resistance and toughness. It can be readily cast in thick cross sections (e.g. several inches) without the development of undue exotherm during cure. The cured compound is a superior electrical insulator. EP30DP has a service operating temperature range of-80°F to +250°F.

Master Bond EP30DP is formulated to cure at room temperature or more rapidly at elevated temperatures. It has an advantageously low viscosity and a Shore A hardness of 85. This unique polymer system is 100% reactive and does not contain any solvents or diluents. It has a mix ratio of 100 to 10 by weight.

Master Bond EP30DP has exceptional resistance to vibration, impact and shock. It also exhibit resistance to thermal cycling. EP30DP has an elongation of 80%. Its dielectric strength is >420 volts/mil. It has a Shore D hardness of 45. Particularly noteworthy is it's low water absorption, low moisture permeability and high hydrolytic stability.

Master Bond EP30DP is available in V2 pint, pint, quart, gallon and 5 gallon container kits.

For further information, please contact:

James Brenner Marketing Manager
More from Adhesives & Sealants