Compostable Bakeware helps bakeries go green.
Press Release Summary: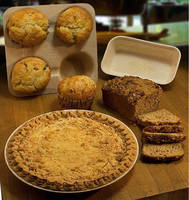 Made from renewable starch materials, Renew-a-Pak(TM) biodegradable trays and pans enable producers to bake, ship, and serve in environmentally responsible manner without changing existing recipes or daily operations. Products meet bakery performance requirements, including being dual ovenable, fully microwavable, and able to maintain structural rigidity in freezing temperatures as well as those up to 420ºF. They biodegrade in 40 days outdoors and have indoor shelf life of many years.
---
Original Press Release:
Biosphere Industries and Sealed Air Launch Technology to Help Bakeries Go Green
Made from Renewable Starch Materials, Renew-a-Pak(TM) Biodegradable Trays and Pans are a "first" for the Industry Performs As Well as Traditional Product Alternatives With Additional Economically Measurable Benefits CARPINTERIA, CALIF. and ELMWOOD PARK, N.J., December 4, 2008 - In addition to traditional favorites such as blueberry muffins, banana bread, and cherry tarts and pies, bakeries can now add "green" to the menu. With the introduction of Renew-a-Pak(TM) compostable bake ware, these and other mouthwatering hits can be baked, shipped and served in a more environmentally responsible manner without transferring products from a baking system to a display system. Renew-a-Pak(TM) products provide the same performance benefits as alternative bake ware, including muffin trays, bread and tart pans, and are part of a growing family of earth friendly, high performance packaging products developed by Biosphere(TM) Industries, LLC and Sealed Air Corporation (NYSE: SEE). Designed specifically for bakeries, the new line of Renew-a-Pak(TM) products is one of the first of its kind manufactured mostly from yearly renewable starch materials, such as tapioca, and are certified by the Biodegradable Products Institute. With performance to match competitive cooking options such as coated paper, metal and /or dual ovenable CPET, Renew-a-Pak(TM) pans and trays will help bakers do their part for the environment by conserving water and energy used to wash dishes and trays and reducing the amount of dishwashing detergent that is discharged in waterways. Being completely compostable, Renew-a-Pak(TM) products also offer a more environmentally friendly option to traditional disposable trays and pans. If your location does not have composting capability, Renew-a-Pak(TM) can also be diverted to the paper recycling stream. Performance Counts In addition to the environmental benefits, Renew-a-Pak(TM) products meet many of the performance requirements necessary for bakery usage, including being dual ovenable and fully microwavable and maintaining structural rigidity in freezing temperatures and extreme heat up to 420º F. Renew-a-Pak(TM) products also do not require bakers to change or modify existing recipes or daily operations. Combined with its existing line of products, Sealed Air can offer a complete turn key solution from shrink films to equipment solutions. Other important benefits include: o Reduces labor by cooking then shipping and serving in the same tray o Reduced product breakage when currently transferred from metal pans to distribution and display packaging o Consumers can reuse Renew-a-Pak(TM) to reheat in a microwave or oven o Products are cool-to-the-touch, reducing threat of burning hands "We developed a proprietary technology that enables us to optimize the natural benefits and cost efficiencies of plant based starches into products that perform as well as plastic or metal," said Elie Helou, Chief Executive Officer of Biosphere Industries LLC. "We know that some of the Earth's most basic and natural materials have the potential to play an important role in packaging." "The environmental concerns of the world today present many challenges for companies. And while the responsibility to meet these challenges is growing every day, so are our opportunities. It was with this in mind that Sealed Air and Biosphere joined forces to develop a new class of renewable packaging products that are ready to meet both the performance and environmental needs for many potential customers," said Charles Dunlap, Sealed Air's Director of Sales and Marketing for Biosphere products . Renew-a-Pak(TM) product lines are certified compostable in the United States and Europe. Products biodegrade completely in 40 days outdoors (depending on precipitation conditions) on their own, or 10 days in a commercial compost environment (which is the same rate as food) while enjoying an indoor shelf life of many years. For towns and cities without composting facilities, Renew-a-Pak(TM) packaging materials may also be disposed of in paper recycling streams. About Biosphere Biosphere Industries was founded in 2002 to develop an ultra earth friendly technology for single use disposable rigid packaging systems. In 2006, Biosphere Industries LLC joined forces with Sealed Air Corporation, a leading global manufacturer of food and protective packaging materials and systems. . For more information about Biosphere Industries, please visit the Company's web site at www.biosphereindustries.com. About Sealed Air Sealed Air is a leading global innovator and manufacturer of a wide range of packaging and performance-based materials and equipment systems that serve an array of food, industrial, medical, and consumer applications. Operating in 51 countries, Sealed Air's international reach generated revenue of $4.7 billion in 2007. With widely recognized brands such as Bubble Wrap® cushioning, Jiffy® protective mailers, Instapak® foam-in-place systems and Cryovac® packaging technology, Sealed Air continues to identify new trends, foster new markets, and deliver innovative solutions to its customers. For more information about Sealed Air, please visit the Company's web site at www.sealedair.com.