Composite Toughening System will not compromise properties.
Press Release Summary: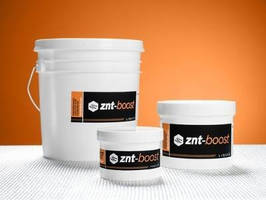 Intended for carbon and glass fiber composites, ZNT-boost™ can increase toughness of composite up to 100% while also increasing stiffness and strength up to 30%. Product comes in liquid and dry flake forms for most composite applications that include prepreg, VARTM, infusions, and hand layup. Designed to work with most forms of epoxy, vinyl esters, and polyesters, ZNT-boost requires no changes in process, catalyst, or curing agent.
---
Original Press Release:

Zyvex Technologies Announces a New Composite Toughening System that is Easy to Use, Cost Effective, and Doesn't Compromise One Property for Another



COLUMBUS, Ohio -- Zyvex Technologies announces a new product called ZNT-boost(TM). ZNT-boost is an epoxy-composite toughening system for carbon and glass fiber composites that brings the benefits of increased toughness without compromising the strength and stiffness of the composite. Unlike most toughening systems, ZNT-boost doesn't force you to compromise on one property to increase another. ZNT-boost often increases the toughness of the composite up to 100% while increasing the stiffness and strength up to 30%.



In addition to providing a unique combination of toughness and strength, ZNT-boost is easy to use with standard composite processing systems and is likely the simplest way to leverage the benefits of carbon nanomaterials. No process changes need to be made and no changes are required in your catalysts or curing agents when using ZNT-boost.



In deploying the first commercial adoption of ZNT-boost, Zyvex Technologies worked closely with Composites Universal Group (CUG) located in Scappoose, Oregon. Lance Criscuolo, president of Zyvex Technologies stated: "Our mutual customer in the marine industry needed exceptional toughness for their application, but didn't want to compromise on the strength and stiffness of the final product. We knew that CUG had a reputation for working with new technology and the right capabilities for a successful deployment of a new material. We are very pleased with their support, the level of professionalism, and expertise at CUG to deliver a quality solution."



Steve Ruege, CEO of CUG commented that "the ZNT-boost product was very easy to use and enabled our engineers to adapt to the needs of the customer without making a bunch of changes to our process. ZNT-boost delivered the right performance for one of our more challenging customers at an affordable price. We are happy to be one of the first companies to successfully use this new system in a commercial application and look forward to serving more customers with difficult applications."



ZNT-boost is available in two forms: liquid and dry flake (powder) for most epoxy-based composite applications that include prepreg, VARTM, infusions, and hand layup. ZNT-boost works with most forms of epoxy, vinyl esters and polyesters.



Visit www.zyvextech.com/znt-boost/ to learn more about ZNT-boost and order a sample today. For companies that want to use the technology but don't have the internal capabilities, contact CUG at www.compun.com for products that incorporate ZNT-boost.



About Composites Universal Group

From concept to finished product, CUG fabricates components and assemblies for customers needing the high strength and low-weight properties of advanced composites materials. Composites Universal Group production offers advantages in aerospace, aviation, transportation, energy generation and patient transportation markets.



Certified, AS9100 quality systems for Prototyping to volume production of Carbon Fiber, E-Glass, Fiberglass, Kevlar and other FRP composite components means that Composites Universal Group merits your consideration as a manufacturing partner.



About Zyvex Technologies

Zyvex Technologies was founded in 1997 as the world's first molecular carbon nanotechnology company and is the first to commercialize products using carbon nanomaterials. Today, Zyvex has a wide assortment of chemistry and commercialized nano-engineered materials available for sale and license.



CONTACT:

Lance Criscuolo

1-614-481-2218

lcriscuolo@zyvextech.com

More from Architectural & Civil Engineering Products