Composite Bearings target bicycle components.
Press Release Summary: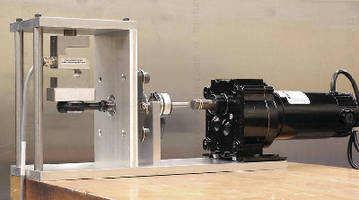 Comprised of fluoropolymer friction surface with rubber backing, NORGLIDE® Composite Bearings provide low-friction alternative to sealed roller bearing elements in headsets. Units can also be used in place of axle-shaft rolling element bearings and bushings in bicycle pedal assemblies. For bicycle braking systems, bearings find applications in brake levers and cantilevers. Maintenance-free products resist corrosion and are free from performance degradation that results from moisture absorption.
---
Original Press Release:

Saint-Gobain Offers Lightweight Maintenance-Free Composite Bearings for Bicycle Components



Saint-Gobain Performance Plastics, an established and respected supplier of composite bushings for use in bicycle front suspension applications, now offers an extended range of products that bring the important benefits of low friction, light weight and maintenance-free operation to other key bicycle components, including headsets, pedals, brakes and drive train.

In headsets, the latest NORGLIDE® composite bearings provide a lightweight low-friction alternative to conventional sealed roller bearing elements. Comprising a fluoropolymer friction surface with a rubber backing, the bearings are deceptively simple in appearance but incorporate sophisticated technologies that enable them to exceed the performance of conventional bearings in every respect, including operating life, while requiring absolutely no maintenance.

NORGLIDE® bearings are equally beneficial in bicycle pedal assemblies, where they can be used in place of axle-shaft rolling element bearings and plastic bushings. In these applications, the NORGLIDE® products share the inherent resistance to corrosion offered by their plastic counterparts. However, they are free from the risk of performance degradation that, with plastic components, often results from the absorption of moisture.

For bicycle braking systems, NORGLIDE® bearings find applications in the brake levers, where they provide a low clearance low friction upgrade for conventional lever pivots and in cantilevers where they offer a high-performance corrosion-resistant option for brake pivots. A low friction cylinder, flange or washer with an interference fit can be used to provide the braking system with the perfect feel.

In all applications, NORGLIDE® composite bearings can be customized to accurately match the user's requirements by adjusting their geometry and the composition of the fluoropolymer material used in their construction.

Saint-Gobain Performance Plastics has extensive in-house research and development, design, testing and manufacturing facilities, and is able to rapidly develop cost-effective solutions for almost any application, based on its extensive product range. In addition to NORGLIDE® composite bearings, Saint-Gobain Performance Plastics offers NORSLIDE® cable liners and RENCOL® tolerance rings.

For further information please visit: www.bearings.saint-gobain.com.

About Saint-Gobain

Saint-Gobain is a global leader in the design, production and distribution of innovative, high performance materials for industry and employs over 191,500 people. With operations in over 64 countries, Saint-Gobain is the 60th largest employer and among the top 50 global industrial companies worldwide. Saint-Gobain is listed on the stock exchanges of Paris, London, Frankfurt, Zurich, Brussels and Amsterdam. Saint-Gobain's global strategy is focused around three core markets: Construction Products, Innovative Materials, and Building Distribution; and, the company is committed to play a leading role in developing energy efficient innovations for the housing and construction sectors, protecting the environment, and managing growth in a sustainable fashion.

With 14 global sites, the Bearings and Tolerance Rings Group, a division of Saint-Gobain Performance Plastics, provides 'engineer-to-engineer' solutions in motion to high volume international OEMs in the automotive, leisure, energy, industrial, and other markets. Backed by a heritage of product innovation, technology, advanced materials and market leadership, they are dedicated to working with customers using their extensive engineering expertise to deliver standard and custom solutions in NORGLIDE® bearings, RENCOL® tolerance rings, SOLGLIDE® bearings, and NORSLIDE® cable liners that meet the most demanding applications. For further information please visit: www.bearings.saint-gobain.com

More from Material Processing