Component Offering for Wind Turbine Applications Continues to Grow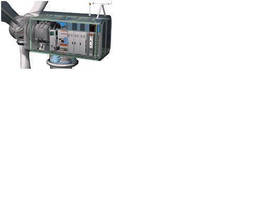 A growing line of innovative components for the wind turbine segment of the alternative energy industry is available from Tyco Electronics. Connectors, insulators, sensors, relays, filters, power resistors, identification products and many more products are offered for wind turbines and associated subsystems.

Product Features

o Broad range of components
o Alternative energy expertise
o Global support Applications
o Wind Turbines
o Pitch and Yaw Controls
o Control Cabinets
o Inverters
o Cable Assemblies
o Elevators

HARRISBURG, Pa. - Jan. 12, 2009 - Tyco Electronics continues to sharpen its focus on the developing alternative energy market, offering a growing line of products for the wind turbine segment. Innovative solutions are available for numerous applications within wind turbine systems such as control cabinets, inverters, cable assemblies, elevators and more.

Among the products Tyco Electronics offers for wind energy applications are connectors, insulators, sensors, and wire, harness and protection products. Others include relays and switches, filters, power resistors and identification products, as well as appropriate application tooling.

The company's expertise in this segment of the alternative energy industry is explained in a new 44-page guide. An introductory section of the Wind Turbine Components and Application Guide lists some of the company's key capabilities and resources for wind turbines, as well as the broad range of subsystems associated with them.

The guide also provides an overview of Tyco Electronics products for the wind turbine segment. It goes beyond merely listing the components by detailing some of the many ways the products may be used in a range of wind turbine applications.

The closing section of the guide is a handy source of reference information with terms specific to the components industry and to wind applications.

To learn more about Tyco Electronics products for wind turbine applications, contact your local Tyco Electronics sales office, send an email to newproducts@tycoelectronics.com or visit http://www.tycoelectronics.com/wind.

More from Electrical Equipment & Systems