Component Engineers Inc. and New England Welding Collaborate on Project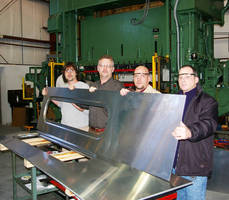 WALLINGFORD, CT. - February 16, 2009- - Component Engineers Inc. (C.E.I.) of Wallingford, CT and New England Welding, Inc. (N.E.W.) of Avon, MA are pleased to announce their collaboration on a substantial and exciting manufacturing project.

The two manufacturers are combining capabilities to complete the metal fabrication of light weight aluminum door panels. The completed door panels are for (SLRV) DART super light rail vehicles in Dallas, TX. DART (Dallas Area Rapid Transit) is a Dallas based public transit system that provides public transportation by train and bus throughout Dallas and twelve nearby metropolitan areas. N.E.W. has expertise in door assembly and intricate welding to strict customer requirements.

C.E.I. has expertise in engineering, design, and fabrication of demanding customer metal stampings. In this case large forming dies shape the aluminum to the exact specifications of the customer. C.E.I. also brings to the table an unusually large big-bed 300 ton stamping press. C.E.I. and N.E.W. compliment and enhance the capabilities of each company in order to manufacture a product that requires a more diverse manufacturing capability than either company has individually. This team approach vastly improves quality and accelerates the time to market schedule.

In addition, the two companies are assisting in the effort to make transportation increasingly environmentally friendly. The aluminum used to build the train cars, specifically the door panels, is lightweight and therefore requires less fuel to travel, helping to reduce energy costs. Any excess material used in the manufacturing process is collected and recycled back to the mill and used to produce additional raw materials.

N.E.W. is an architectural and precision fabricator, specializing in precision welding and custom fabrications of aluminum and stainless steel. The company's welders are certified and are proficient at TIG and MIG welding techniques. The skilled fabricators at N.E.W. have expertise CNC laser cutting- CNC punching- CNC forming and machining, rolling and tube-forming from prototype to production run. Additional services include design consultation and CAD drawings for architectural and manufacturing solutions. N.E.W.'s state-of-the-art equipment and high-caliber craftsmen provide quick turnaround and superior quality on custom and highly complex design projects which turn a concept into physical beauty. N.E.W. remains dedicated to standards of excellence and its ability to be a total service provider.

C.E.I. is a contract manufacturing, engineering, and development leader in the Northeast, with its world headquarters based in Wallingford, CT. C.E.I. services companies throughout the world in the medical, automotive, electronics, industrial, military, aerospace, and other commercial industries. The company produces high precision metal components using methods such as precision metal stamping, CNC machining, CNC turning, Wire EDM and tubular fabrication. Founded in 1980, C.E.I. has remained focused on customers' standards for consistent quality, on-time delivery, and customer service. By continuously investing in capital, technology, and the continuous training of its staff, C.E.I. continues to meet its goal of being a one-stop solution. C.E.I. operates in a 34,000 square foot facility of 102 employees, with a recently acquired 11,000 square foot facility in Meriden, CT. All of C.E.I.'s processes are ISO 9001:2000 and ISO 13485:2003 registered. The company has grown to be one of the most trusted and respected metal fabricators in the region.

For additional information on New England Welding, Inc., please visit their website at NEWelding.com.

For additional information on Component Engineers Inc., please visit their website at www.ComponentENG.com.

More from Material Handling & Storage