Global Positioning Systems (GPS)
Complete Inertial Navigation System is optimized for accuracy.
Press Release Summary: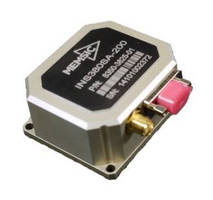 As complete system, INS380SA features built-in 48-channel GPS receiver and SmartSensing™ technology. Latter, combining Kalman-based algorithm with temperature, motion, and alignment calibration, enables turnkey system with better than 0.01 m/s velocity measurement accuracy. Also, integrated 3-axis magnetometer allows accurate operation when GPS signal is lost or when vehicle is stopped. Applications include unmanned ground and aerial vehicles, and platform stabilization.
---
Original Press Release:

MEMSIC's SmartSensing(TM) Technology Delivers Highest Performance in Inertial Measurement Systems



(Andover, MA), MEMSIC announces the launch of its latest addition, the INS380, to its portfolio of Inertial Systems enabled with SmartSensingTM technology targeted to a broad range of precision motion sensing applications. The portfolio offering consists of Inertial Measurement Units (IMU), Vertical Gyros (VG), Attitude and Heading Reference Systems (AHRS), Inertial Navigation Systems (INS) and Tilt measurement systems in a variety of packages suited for system designers to end equipment manufacturers.



The latest product from MEMSIC, the INS380SA, is a complete inertial navigation system with a built-in 48-channel GPS receiver. The SmartSensingTM technology enables a turnkey system with better than 0.01 m/s velocity measurement accuracy. The integrated 3-axis magnetometer allows for accurate operation when the GPS signal is lost or when the vehicle comes to a stop.



SmartSensingTM technology provides users with unmatched sensor fusion and performance in critical motion sensing applications. SmartSensingTM combines enhanced and patented Kalman-based algorithm with proprietary temperature, motion and alignment calibration for consistent and high accuracy performance over a wide range of extreme operating conditions. Applications include unmanned ground and aerial vehicles, platform stabilization, avionics, precision agriculture, construction, and more.



"With over 400 man-years of design and development experience and knowledge in designing IMUs and sophisticated MEMS sensor solutions", said Masoud Beheshti, VP and General Manager of MEMSIC's system division, "MEMSIC is in a very unique position in the industry to help enable designer's unprecedented size, accuracy and cost, with our SmartSensingTM technology".



INS380SA-400 EVALKIT is available for evaluation and ships completer with an INS380 Unit along with necessary accessories for quick installation. Designers can evaluate and configure the system using MEMSIC's NavView Software, available for download from http://www.memsic.com.



Pricing:


| | |
| --- | --- |
| Product Name | Pricing (10units) |
| INS380SA-400 | $2895 |
| INS380SA-400 EVALKIT | $2995 |



ABOUT MEMSIC

MEMSIC Inc., headquartered in Andover, Massachusetts, provides advanced semiconductor sensors and multi-sensor system solutions based on micro-electromechanical systems (MEMS) technology and sophisticated integration technologies in both the IC level and module level. MEMSIC's unique and proprietary approach combines leading-edge sensor technologies, such as magnetic sensors and accelerometers, with mixed-signal processing circuitry to produce reliable, high quality, cost-effective solutions for the mobile phone, automotive, consumer, industrial and general aviation markets. www.memsic.com

More from Electronic Components & Devices