Complete, All-Electric Packaging Cell Running in Milacron Booth at NPE2012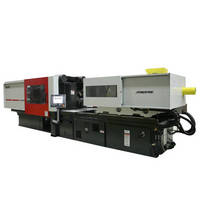 See Milacron's PowerPAK injection molding machine integrated with advanced auxiliaries at Booth #2803

Batavia, Ohio - Milacron (Booth #2803) will be setting up shop in Orlando, Fla. this year with a self-contained packaging cell featuring its popular PowerPAK all-electric injection molding machine. This high-speed automation cell combines several industry leaders' advanced technology, bringing precision and efficiency to the consumer packaging market.

Visitors can watch the 550-ton PowerPAK achieving a near 5-second cycle time as it molds. Container lids from RP250 35 MFR polypropylene material supplied by Braskem and ClearTint® color from Milliken.

System features include:

o StackTech 2 x 4, 8-cavity stack mold

o High-speed, telescoping, side-entry CBW robot

o Milacron chiller and loader

"Spotlighting the PowerPAK model with live automation fully integrated in to the machine's Mosaic control will demonstrate the machine's incredible high-speed capabilities," said Eric Thompson, Electric Platform Product Manager at Milacron. "It's one of the only all-electric injection molding models that runs just as fast as a hybrid."

The PowerPAK, now available with clamping forces from 440 to 1,125 tons, has a selectable axis configuration (SAC) with an option of all electric on all four machine axes (clamp, injection, ejection, extruder), or as a combination of the ejector or injection axes as hydraulic. The clamp and extruder remain "all electric" on all model configurations.

With all of these options available, PowerPAK is the most energy-efficient machine in the packaging industry for thin-wall, high-speed consumer products. Energy savings are 45-50 percent compared to conventional hydraulic or hybrid machines for the same application.

The machine's speed is a result of several standard features that promote rapid acceleration, including:

o Electric toggle with proven rack and pinion direct-drive clamps with clamp speeds similar to accumulator-driven hydraulic machines

o Linear low-friction bearings for accurate clamp guidance, improving speed and longevity

o Patented two-stage electric injection for superior melt quality and high throughput

o New low-inertia motors and high-efficiency modular drives

o Rare earth permanent-magnet servo motors

o Independent extruder and injection drives

o Enhanced machine diagnostics using Milacron's newest control platform, Mosaic 2.0

o NO-FLEX platen design offering lower tonnage requirements than competitive models

Features making the PowerPAK ideal for high-speed, high-volume, stack mold applications include:

o Stack mold support shoes on greaseless tie bar part drop area - the only electric-based clamp with an improved greaseless solution for stack molds

o High-volume air, water and hydraulics supplied to convenient locations on stationary and moving platens for easy hookup to the stack mold

o Low centerline and walkup base for easy operator access and maintenance of large-cavitation tooling

o Easy top- or side-entry automation access for high-speed part removal or in-mold labeling (IML) applications

o Extended mold height for tall mold height requirements common with multi-level stacks

In addition to demonstrations at Booth #2803, Milacron will be presenting as part of the NPE Business of Plastics conference on sustainable injection molding, including solutions such as PowerPAK. The presentation is scheduled for 12-1 p.m. Wednesday, April 4 in the South Hall, Level 2, Room S210A.

About Milacron LLC

Milacron LLC and its businesses are committed to being the leading suppliers of plastics-processing technologies and industrial fluids around the world. The people of Milacron's companies know what matters in manufacturing, and every day, put this know-how to work to help customers improve productivity, cut costs, increase energy efficiency, eliminate scrap and reduce cycle times. For further information, visit http://www.milacron.com/plastics/

Media: For more information, or to schedule an interview, contact Christy Domanoski at: (414) 698-5139 or [email protected].