Comparator ICs target battery-powered applications.
Press Release Summary: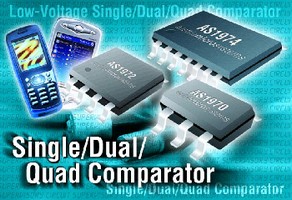 Offering choice of single, dual, or quad output, AS1970-75 Series features power consumption down to 8.5 µA per comparator input. Units support single +2.5 to +5.5 V supplies as well as dual ±1.25 to ±2.75 V supplies. They can be powered by two AA cells while offering rail-to-rail capability and input bias current of 1 pA. Low 0.5 mV input offset voltage and internal 3 mV hysteresis make ICs suited for battery monitoring and management applications in portable devices.
---
Original Press Release:

austriamicrosystems First Family of Single/Dual/Quad Comparators Significantly Improves Power Consumption



New AS1970-75 ICs ideal for portable/battery-powered equipment, computers, intelligent
instruments, critical µP and µC power monitoring, controllers and automotive applications

Unterpremstaetten, Austria (November 30, 2006) - austriamicrosystems (SWX: AMS), a leading global designer and manufacturer of analog integrated circuits (ICs) for communication, industrial, medical and automotive applications, has introduced its first line of comparators - the AS1970-75 family. Offering a choice of single, dual
or quad input, combined with low power consumption down to 8.5 µA per comparator input, these ICs are ideal for a variety of battery powered applications.

The AS1970-75 family can be used with single +2.5V to +5.5V supplies, making it perfect for 3V and 5V applications. Dual ±1.25 to ±2.75V supplies can also be supported. The ICs can be powered by just two AA cells while offering rail-to-rail capability and a low input bias current of 1pA. Furthermore the low 0.5 mV input offset
voltage and internal 3 mV hysteresis combined with low power consumption makes the AS1970-75 family ideal for battery monitoring and management applications in portable devices.

"Because of the unique design of its output stage, the AS1970-75 family virtually eliminates supply-current glitches typical of many other comparators," said Walter Moshammer, Director Marketing Standard Linear at austriamicrosystems. "The jutting architecture also dramatically increases battery life, even in high-speed applications."

The AS1970/72/74 have a push/pull output stage that sinks and sources current. The AS1972/73/75 have an open-drain output stage that can be pulled beyond VCC, making them suitable for mixed-voltage designs, logiclevel translators or bipolar-to-unipolar converters. Large internal output drivers allow rail to rail output swings with
loads up to 8 mA.

The AS1970/71 single comparators are available in a space-saving, 5-pin SOT23 package, the AS1972/73 dual comparators come in a 8-pin MSOP package and the AS1974/75 quad comparator are delivered in a 14-pin TSSOP package. Product-specific information can be found at http://austriamicrosystems.com/03products/products_detail/AS1970/description_AS1970.htm

About austriamicrosystems
austriamicrosystems is a leading designer and manufacturer of high performance analog ICs, combining more than 25 years of analog design capabilities and system know-how with its own state-of-the-art manufacturing and test facilities. austriamicrosystems leverages its expertise in low power and high accuracy to provide industryleading
customized and standard analog products. Operating worldwide with more than 1,000 employees, austriamicrosystems focuses on the areas of power management, sensors & sensor interfaces, portable audio and car access in its markets Communications, Industry & Medical and Automotive, complemented by its Full Press Release November 30, 2006 Service Foundry activities. austriamicrosystems is listed on the SWX Swiss Exchange in Zurich (ticker symbol: AMS). For more information, please visit the web site at www.austriamicrosystems.com.

Electronic picture and block diagram are available on request or at
http://austriamicrosystems.com/07presscenter/presscenter_start.htm

For further information:
Technical Contact
austriamicrosystems AG
Manfred Kogler
Marketing Manager Standard Linear
Tel: +43 (0) 3136 500 5274
Fax: +43 (0) 3136 500 5420
manfred.kogler@austriamicrosystems.com
www.austriamicrosystems.com

More from Architectural & Civil Engineering Products