Comparator Display shows status via change in color.
Press Release Summary: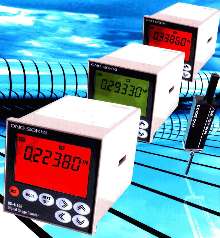 When used with linear gauge sensor, DG-4140E color changing digital gauge display allows users to determine if a part or surface is good or bad or if something is in or out of position. It is compatible with 12+ linear gauge sensors with measuring ranges from up to 4 in. and accuracies of 0.0004 and 0.00004 in. Red backlit LCD indicates that lower or upper limit has been exceeded, and green indicates good. Functions include peak hold and off set.
---
Original Press Release:
Dual Color Changing Comparator Display

(First of it's kind)

December 3, 2003 Addison, IL Ono Sokki Introduces their newly launched (DG-4140E) unique and easy to determine color changing (Red / Green) digital gauge display. There is currently no digital comparator with this feature.

When used with a linear gauge sensor, this display allows the user to easily see when a part is out of tolerance (or spec), or good within tolerance. (Basically, to easily determine if a part or surface is good or bad, or if something is out of position or in position.)

The DG-4140E is compatible with over a dozen linear gauge sensors to fill a large array of applications; with measuring ranges from up to 4 inches, accuracies of 0.0004" and 0.00004",

Used along with the gage sensors you may measure dimensions, thickness, curvature, eccentricity, displacement, height, depth, flatness, variation, run-out, roundness, distortion, deflection, and position.

Set up of upper and lower limits are done quick and with ease on this comparator, as simple as setting an alarm clock.

An operator can easily recognize the comparison result monitoring changes of colors on the backlit of LCD, indicating red for either of the lower and the upper, and green in good.

To expand possibility for the in-line use, it can provide the advanced functions such as peak hold, off set and multiple functions.

This unit may be connected to a PC via an interface cable or via Device net to a PLC.

For more information, please contact:

Kenneth S. Ujiiye

Marketing Manager

Tel. 800.922-7174 ext. 621

Fax 630.637-0004

kujiiye@onosokki.net
More from Software