Comparative Gauge accommodates tall and fixtured parts.
Press Release Summary: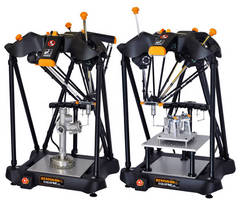 Equator 300 can inspect features on parts up to 300 mm tall as well as those attached to machining fixtures, with changeover to smaller parts using extended fixture plate spacer. Space below gauging system facilitates automated part handling with robots and conveyors. This alternative to traditional dedicated gauging can switch between parts in seconds, offers push-button operation, and uses fixturing that positions parts to within 1 mm of where master was measured.
---
Original Press Release:

New Equator Extended Height Gaging System Adds Flexibility for Tall, Fixtured and Automatically Loaded Parts



Extended space below gaging system's measuring volume allows fixtured parts to be transferred onto the gage. Enables use of automated systems such as robots and conveyors.



Renishaw extends the product line, and the height, of its revolutionary Equator gaging system with the new Equator 300 Extended Height comparative gage. The new system doubles the space below the measuring volume of the original model, providing a 300-mm height to accept tall parts or those attached to machining fixtures. The additional space also facilitates automated part handling with robots and conveyors. The system can inspect features on parts up to 300 mm tall, with rapid changeover to smaller parts using an extended fixture plate spacer.



Equator is a radical alternative to traditional dedicated gaging, filling a gap in the market never before addressed. The patented low-cost design, unique in construction and method of operation, is capable of high-speed comparative gaging for inspection of high-volume manufactured parts. Equator is a lightweight, fast and highly repeatable gage that operators can use with push-button simplicity, and the system can switch between parts in seconds, making it ideal for flexible manufacturing processes or accepting parts from multiple machines.



Equator systems have been installed in multiple automotive, aerospace, medical and electronic plants across the world, and users cite advantages of reduced maintenance and fixture costs, plus the ability to gage multiple parts and re-program for design changes. By using fixturing that positions parts to within 1 mm of where the master was measured, there is no significant effect on system repeatability, and the need for expensive precision fixtures is removed. The Equator fixture plate can be easily exchanged for other plates, each mounted to the Equator base using highly repeatable three-point kinematic seats. The plates can also be exchanged for fixture plate spacers, allowing smaller parts to be gaged in the same measuring volume.



Thermal stability

Equator's innovative and highly repeatable gaging technology is based on the traditional comparison of production parts to a reference master part. Re-mastering is as swift as measuring a production part and immediately compensates for any change in the thermal conditions of a shop-floor environment. The calibrated absolute accuracy of CMMs, which are often located in remote temperature controlled rooms to ensure accuracy, can be extended to the shop floor to provide calibrated traceability to Equator measurements. With the calibration file loaded into the Equator software, measurements made in the Equator system can be referred back to the CAD or drawing nominals.



An Equator-specific stylus changing rack, included with the system, adds versatility and allows automated in-cycle changing of SH25 stylus holders. The SH25 holders couple to Renishaw's SP25 probe, allowing Equator users to swap the stylus configurations without re-qualifying each time. Up to six stylus combinations can be loaded into the rack at any time and they can be used on a single complex part or with multiple parts of varying geometries.



Turnkey installations

Since the launch of the Equator gaging system in 2011, many customers have taken advantage of the turnkey programming service offered by Renishaw and its partners. Reflecting the international nature of manufacturing, Equator customers can take advantage of Renishaw's extensive network of Equator support engineers. Projects initiated in one country or region can be easily transferred and locally supported in multiple locations.  Renishaw has nearly 70 regional support offices and multiple approved partners, covering every industrialized area of the world. For more information, visit http://www.renishaw.com/gaging



Contact

Jeffrey Seliga

Renishaw Inc.

5277 Trillium Blvd.

Hoffman Estates, IL 60192

Tel: 847.286.9953

Fax: 847.286.9974

Jeffrey.seliga@renishaw.com

or

Jeff Drum

Kemble & Rude Communications, Inc.

4242 Airport Rd.

Cincinnati, OH 45226

Tel: 513.871.4042

Fax: 513.871.4895

jdrum@kemblerude.com

More from Mechanical Power Transmission