CompactPCI RAID Server features fanless, modular design.
Press Release Summary: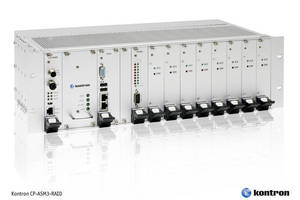 Featuring high-speed RAID array comprising up to 8 SATA-II hard disks or Solid State Drives, integrated on hot-swappable carrierboards, CP-ASM3-RAID includes CP307 CompactPCI processor board, passively cooled 1.06 GHz Intel Celeron M processor, and 512 MB of soldered RAM. It supports RAID 0/1/5/10/50 or JBOD (Just a Bunch Of Disks) and wide range of management and recovery mechanisms. Operating at 0-55°C, unit offers high shock and vibration resistance and open system architecture.
---
Original Press Release:

Kontron CP-ASM3-RAID: Fanless CompactPCI RAID Server



High-speed storage system for rugged environments

Eching, Germany, October 1, 2009 - For the first time, the new rugged CompactPCI RAID server, Kontron CP-ASM3-RAID, combines tried-and-tested CompactPCI technology with high-speed SATA connections via the backplane.

The modular Kontron CP-ASM3-RAID boasts a high-speed RAID array comprising up to 8 SATA-II hard disks (SATA 3.0 Gbit/s) or Solid State Drives and excels with high availability and high shock and vibration resistance. Thanks to the use of electronic components with protective coating, the fanless system design is securely protected against humidity and dust. Even when using standard hard disks it achieves an impressively long lifecycle in operating temperatures of 0°C to 55°C.

The robust Kontron CP-ASM3-RAID server can be used in applications such as: mobile or stationary video surveillance, in public transport or tunnel surveillance, video and audio streaming and digital image processing for controlling various production processes. Owing to the open system architecture the addition of extra modules for further application areas is possible at any given time.

At the heart of the modular Kontron CP-ASM3-RAID lays the integrated high-performance RAID controller. It supports RAID 0/1/5/10/50 or JBOD (Just a Bunch Of Disks) and a wide range of management and recovery mechanisms and guarantees data integrity and security. The hard disks or Solid State Drives are integrated on hot-swappable carrierboards and offer a storage capacity of up to several terabytes - depending on the desired configuration.

The CompactPCI processor board Kontron CP307 serves as a system controller with passively cooled 1.06 GHz Intel Celeron M processor and 512MB of soldered RAM which enable optimal performance with minimal energy consumption of the RAID system.

For remote system management via LAN, a special system management tool has been developed, which enables the reading of system voltage and operating temperatures or the shutting down of the RAID server.

Drivers and tools for parameter setting of system functions are available for Linux. Further operating system support is available on request. The CompactPCI RAID server Kontron CP-ASM3-RAID is available now.

About Kontron
Kontron designs and manufactures embedded and communications standards-based, rugged COTS and custom solutions for OEMs, systems integrators, and application providers in a variety of markets. Kontron engineering and manufacturing facilities, located throughout Europe, North America, and Asia-Pacific, work together with streamlined global sales and support services to help customers reduce their time-to-market and gain a competitive advantage. Kontron's diverse product portfolio includes: boards & mezzanines, Computer-on-Modules, HMIs & displays, systems & platforms, and rugged & custom capabilities. Kontron is a Premier member of the Intel® Embedded and Communications Alliance and has been a VDC Platinum Vendor for Embedded Computer Boards 5 years running. Kontron is listed on the German TecDAX stock exchange under the symbol "KBC". For more information, please visit: www.kontron.com

PR online: www.kontron.com/about-kontron/news-events/kontron+cpasm3raid+fanless+compactpci+raid+server.3628.html

For further information on the RAID-Server Kontron CP-ASM3-RAID, please visit: http://kontron.com/industries/transportation/compactpci+boards+and+systems/cpasm3raid.html

For further information on CompactPCI, please visit:
http://www.kontron.de/compactpci/

For further information on the 3U CompactPCI CPU board Kontron CP307, please visit:
http://de.kontron.com/products/boards+and+mezzanines/3u+compactpci/x86+processor/cp307.html

EMEA
Norbert Hauser
Kontron
Tel: +49 (8341) 803-0
norbert.hauser@kontron.com

Americas
Richard Pugnier
Kontron
Tel:+1 (858) 623-3006
richard.pugnier@us.kontron.com

APAC
Tom Meyer
Kontron
Tel: +86 (10) 6375 1188 ext 233
tom.meyer@kontron.com

More from Electrical Equipment & Systems