CompactPCI® Processor Board features air-cooled design.
Press Release Summary: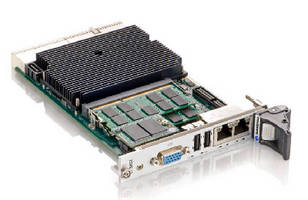 With 2.53 GHz Intel® Core(TM) i7-610E and LV 2.0 GHz Intel® Core(TM) i7-620LE processor, 3U Model CP3002 accelerates multiprocessing tasks via hyper-threading technology, and processes single-threaded tasks using Intel® Turbo Boost technology. Board features up to 8 GB DDR3 1,066 MHz ECC-protected memory on 2 SODIMM sockets, and offers 1x VGA, 2x USB 2.0, and 2x Gigabit Ethernet ports on front panel. For data storage, board supports 2.5 in. SATA hard drive or SSD and CFast socket.
---
Original Press Release:

Kontron CP3002 Completes Series of 3U CompactPCI® Processor Boards Based on the Latest Intel® Core(TM) i7 Processor



Standard air-cooled version completes the 3U series which already includes rugged air cooled and conduction cooled boards

Eching, Germany, - Today, Kontron introduced the standard air-cooled version of the high performance Kontron 3U CompactPCI® processor board CP3002 based on the latest Intel® Core(TM)i7 mobile processor technology and Intel® Platform Controller Hub QM57. The fanless Kontron CP3002 with low power consumption, low heat dissipation and integrated graphics is targeted for standard application environments with forced airflow. The newest processor board extends Kontron's CP3002 line of 3U CompactPCI® processor boards, which are also available in Rugged Conduction-Cooled (RC) (Kontron CP3002-RC) and Rugged Air-Cooled (RA) (Kontron CP3002-RA) variants for applications in harsh environments.

With the 2.53 GHz Intel® Core(TM) i7-610E and the LV 2.0 GHz Intel® Core(TM) i7-620LE processor, the Kontron CP3002 not only speeds up multiprocessing tasks via hyper-threading technology (HTT), but also processes single-threaded tasks much faster thanks to the new Intel® Turbo Boost technology. This allows for a clock speed of up to 3.33 GHz without exceeding the defined thermal design power (TDP) and without the need to oversize the entire system for peak loads. These enhancements make the Kontron CP3002 ideal for a broad range of applications in industrial, transportation, test and measurement, medical and military.

The feature set in detail

On two SODIMM sockets, the Kontron CP3002 3U CompactPCI® processor board features up to 8 GB DDR3 1066 MHz ECC-protected memory for increased data integrity and system stability. Additionally, up to 16 GB of NAND Flash can be integrated via SATA interface to hold complete operating systems or application code which substantially increases overall system speed and availability. The Kontron CP3002 offers 1x VGA, 2x USB 2.0 and 2x Gigabit Ethernet ports on the front panel and a total of 6x USB 2.0, 2x COM (RS-232), 2x Gigabit Ethernet and 5x SATA interfaces, which are available either onboard, or at the rear I/O connector. With the Kontron CP3002-HDD mezzanine card, the 8HP version of the Kontron CP3002 extends the interfaces on the front panel by 1x DVI, 1x COM port, 2x USB 2.0 and a reset button, enabling a simplified and cost efficient system build-up via front cabling. For data storage, the Kontron CP3002-HDD offers support for a 2.5" SATA hard drive or SSD and a CFast socket. To guarantee the highest data and system security, the optional Trusted Platform Module (TPM) offers the required encryption, verification and storage capabilities for security-sensitive applications. The implemented Wake on LAN (WoL) functionality allows the board to save energy when not in operation and to be woken up from suspense state via remote connection. The Kontron CP3002 also provides a PCI 32-bit, 33 MHz CompactPCI® interface supporting the peripheral mode feature. When installed in a system master slot, the CompactPCI® interface is enabled, whereas the interface will be isolated when installed in a peripheral slot.

The Kontron CP3002 runs with Microsoft Windows 7, Windows 7 Embedded Standard, Windows XP, Windows Server 2003, Windows Server 2008, Linux, and VxWorks. Highly integrated board support packages support all onboard hardware devices. Samples of the Kontron CP3002 3U CompactPCI® processor board are available now. Full production is scheduled for Q1, 2011.

Further information about the Kontron CompactPCI® processor board CP3002 is available at: www.kontron.com/products/boards+and+mezzanines/3u+compactpci/x86+processor/CP3002.html

More about CompactPCI®: www.kontron.com/cpci

About Kontron

Kontron designs and manufactures embedded and communications standards-based, rugged COTS and custom solutions for OEMs, systems integrators, and application providers in a variety of markets. Kontron engineering and manufacturing facilities, located throughout Europe, North America, and Asia-Pacific, work together with streamlined global sales and support services to help customers reduce their time-to-market and gain a competitive advantage. Kontron's diverse product portfolio includes: boards & mezzanines, Computer-on-Modules, HMIs & displays, systems & platforms, and rugged & custom capabilities. Kontron is a Premier member of the Intel® Embedded Alliance and has been a VDC Platinum Vendor for Embedded Computer Boards 5 years running. Kontron is listed on the German TecDAX stock exchange under the symbol "KBC". For more information, please visit: www.kontron.com

PR Online: http://kontron.com/about-kontron/news-events/kontron+cp3002+completes+series+of+3u+compactpci+processor+boards+based+on+the+latest+intel+coreandtrade+i7+processor.4302.html

Contact Details

EMEA

Norbert Hauser

Kontron

Tel: +49 (8341) 803-0

norbert.hauser@kontron.com

Americas

Richard Pugnier

Kontron

Tel:+1 (858) 623-3006

richard.pugnier@us.kontron.com

More from Architectural & Civil Engineering Products