Industrial / Specific Purpose Computers
CompactPCI Platforms are application-ready.
Press Release Summary: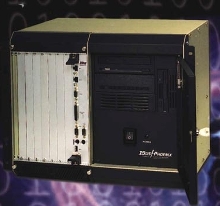 eFUZION-8U platforms are available with Windows NT 4, Windows 2000, and Red Hat Linux 7.2. eFUZION-8U/CEP 8-slot platform is suitable for OEM/VAR branding. It offers Pentium® III 700 MHz single board computer, CD-ROM, floppy, and up to 80 GB IDE hard drives. eFUZION 8U/CES Sun-based platform features CP 2060 Ultra SPARC IIe single board computer, Solaris 8 CD 6 with full I/O hot-swap support, CD-ROM, 400 W AC power supplies, and up to 36 GB SCSI hard drives.
---
Original Press Release:

I-Bus/Phoenix Launches Enterprise Class, Application-Ready CompactPCI® 8U eFuzion Platforms


- Configuration options across Windows, Linux and Sun Solaris(TM) platforms
- Value-priced and high performance, fully configured platforms
- Products designed for the Enterprise environment, competitively priced at system level
- Standard range of added value options - UPS, rack cabinet, application specific boards and software
- Revision controlled platforms ideal for custom corporate branding
- Available from IBP facilities worldwide with 4 week delivery

San Diego, CA - I-Bus/Phoenix (IBP) introduces eFUZION-8U application ready platforms available with Windows NT 4, Windows 2000 and Red Hat Linux 7.2. The flexible eFUZION CompactPCI line of application ready platforms meet the stringent space and environmental requirements of the co-location facility, network data center and customer premise equipment locations across the globe. The 8U family of platforms integrate seamlessly and efficiently into Computer Telephony, Network Edge, Industrial Control and Medical Equipment applications that require the many features of CompactPCI. These features include, full hot swap I/O modules for maintainability and scalability, highly efficient board cooling and a high density form-factor. They are ideal as high availability nodes in a fully redundant cluster system architecture, complete with clustering middleware.

"Flexible and scalable eFUZION 'Application Ready Platforms' (ARPs), allow our customers to quickly deploy solutions with the confidence that their end product will meet or exceed their customer's expectations, and that specific product and branding needs can be met," said Johni Chan, IBP's VP of Engineering. "The added benefit of revision control means our customers enjoy forward notice of any platform changes, avoiding the documentation, maintenance and support problems associated with using systems from commercial PC or power systems manufacturers."

IBP's CompactPCI eFUZION 8U line of consists of the 8U/CEP and the 8U/CES.

The eFUZION-8U/CEP is an 8-Slot CompactPCI platform that is ideal for OEM/VAR branding. The 8U/CEP offers a long life cycle Pentium® III 700MHz Single Board Computer for maximum OEM project life. It features a CD-ROM, floppy, up to 80GB IDE hard drives, and optional full hot-swap middleware and high-availability clustering middleware. Seven I/O slots are left available for application-specific peripherals or to be integrated with IBC 2602 single board computers for additional computing power.

The eFUZION 8U/CES is IBP's 8U CompactPCI Solaris offering. This Sun-based platform features the CP 2060 Ultra SPARC IIe Single Board Computer, Solaris 8 CD 6 with Full I/O Hot-swap support, CD-ROM, 400W AC power supplies, and up to 36GB SCSI hard drives.
Up to 7 additional peripherals or CP 2060 / CP 2080 Sun Netra Blades can be factory-integrated for increased performance.

These platforms are available now with shipments 4 weeks after acceptance of order from I-Bus/Phoenix facilities worldwide. The starting list price for these standard 8U enterprise based platforms is $4795.

For more information on FUZION and other I-Bus/Phoenix products, please visit our newly re-designed company web site at www.ibus.com or e-mail us at info@ibus.com.

I-Bus/Phoenix is an ISO-9001 quality-certified world leader in the design, manufacture and support of high performance, industrial-grade power and computer systems. In addition, I-Bus/Phoenix offers customized, partner-oriented services focused on meeting the needs of OEMs including purchasing collaboration, stable supply-chain management, configuration control, and complete system integration and test services. With our "Best of Breed" partners program, we offer complete application ready solutions utilizing technologies developed both in-house and by third party industry leaders, delivered in a collaborative environment to provide the OEM customer a level of global support that ensures success, allowing OEMs to focus on their core competencies, rather than on managing a diverse set of independent vendors.

I-Bus/Phoenix is a Maxwell Technologies Company. Maxwell Technologies applies industry-leading capabilities in power and computing to develop and commercialize electronic components and power and computing systems for customers in multiple industries, including transportation, telecommunications, consumer and industrial electronics, medical and aerospace.

For further information contact:
Denise Serrano
I-Bus/Phoenix
8888 Balboa Avenue
San Diego, CA 92123
Tel: +1 (858) 503-3077
Fax: +1 (858) 503-3005
Email: dserrano@ibus.com