Industrial / Specific Purpose Computers
CompactPCI Card withstands harsh environments.
Press Release Summary: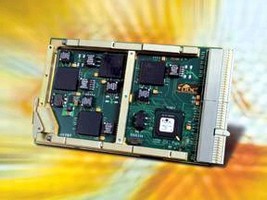 Conduction cooled, 66 MHz Model BU-65566R is available with up to 4 dual redundant MIL-STD-1553 data bus channels. Auto initialization feature enables 1553 I/O channels to be up and running quickly after power turn on, while autonomous built-in self-test verifies proper operation of MIL-STD-1553 protocol logic and RAM. Operating from -40 to +85°C, card includes BU-69090 series software with C API library that supports all Enhanced Mini-ACE's architectural features.
---
Original Press Release:

DDC's Announces New Conduction Cooled MIL-STD-1553 cPCI Card



Bohemia, New York (April19, 2006) Data Device Corporation (DDC) introduces a new MIL-STD-1553 Conduction Cooled cPCI card (CC cPCI). The BU-65566R 66MHz cPCI card allows the base CPU PCI bus to run at 66 MHz, enabling other high-speed devices on the bus to take advantage of the increased bandwidth. The card is available with up to four dual redundant MIL-STD-1553 data bus channels and is 100% compatible with DDC's current line of MIL-STD-1553 PC/104, PMC, cPCI, PCI, and PCMCIA cards.

The BU-65566's auto initialization feature is ideal where the 1553 I/O channels need to be up and running quickly after power turn on. With this feature the card can be processing bus traffic quickly after power is applied and before the host processor is even finished booting. The BU-65566R also includes a fully autonomous built-in self-test capability that verifies proper operation of the MIL-STD-1553 protocol logic and RAM.

Primarily targeted for use in harsh environmental applications, the conformal coated card operates from -40 °C to +85 °C, and within conditions up to 95% humidity.

"Based on DDC's widely used and field proven Enhanced Mini-ACE architecture, each 1553 channel on the BU-65566R may be independently programmed for BC, RT, MT, or RT/MT modes, providing support for MIL-STD-1553A/B, STANAG-3838, McAir, and MIL-STD-1760", said George Los, DDC's MIL-STD-1553 Product Specialist. Additionally, the card is software compatible with DDC's prior generation ACE and Mini-ACE (Plus) architectures.

The BU-65566R includes DDC's BU-69090 series software with a high level C API library that supports all of the Enhanced Mini-ACE's advanced architectural features, along with driver support for most of the popular operating systems such as VxWorks, Integrity, Linux, and Windows. The easy-to-use high level functions in the library abstract all register accesses and memory allocation such that no low level knowledge of the hardware is required.

Data Device Corporation is an international leader in high-reliability data conversion interface components and subsystems for military and commercial applications. Established in 1964 with the introduction of the first synchro-to-digital module, DDC has design and manufacturing facilities in their Bohemia, New York headquarters and Cork, Ireland.

For more information, contact George Los at 631-567-5600 ext. 7669, e-mail info@ddc-web.com, or connect to: www.ddc-web.com