Compactor delivers 7000 lbs of force.
Press Release Summary: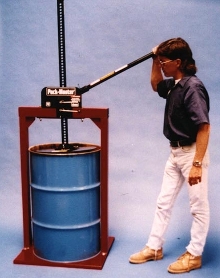 PACK-MASTER provides compaction ratio of up to 7:1. It requires no dangerous high pressure air, hydraulic cylinders, or electric motors. Drum of material is placed on base and is compacted by ram lever. With optional wheel kit, unit can be moved from department to department. Machine is suitable for compacting disposable clothing, paper, filters, and aluminum cans.
---
Original Press Release:

Pack-Master Industrial/Commercial Compactor


Increase recycling revenues, reduce your disposal and storage costs

This unique machine will pay for itself in just a few weeks of use. These compactors will make quick work of your disposable clothing, paper, filters, aluminum cans, absorbent, etc.

The PACK-MASTER IS;

> SAFE TO USE. No dangerous high pressure air, hydraulic cylinders or electric motors.

> EASY TO USE. Simply place a drum of material on the PACK-MASTER's base and compact it by operating the ram lever just like an auto jack.

> POWERFUL. These units can deliver a whopping 7000 pounds of force giving a compaction ratio of up to 7 to 1.

> PORTABLE. With the optional wheel kit the PACK-MASTER (with or without a barrel) can be easily moved from department to department. Have one PACK-MASTER for aluminum cans, one for paper, one for absorbent, etc.

> RUGGED CONSTRUCTION. Manufactured from structural steel and the finest components, these compactors will give you years of service.

> DURABLE. Backed by a 18 month warranty, the longest in the industry.

Newstripe, Inc. also manufactures a complete line of pavement and warehouse stripers, industrial stencils, and crack/joint filling equipment.

For more information visit our web site at newstripe. com
Or contact: Newstripe, Inc.
1700 Jasper Street Unit F
Aurora CO 80011
1-800-624-6706


More from Cleaning Products & Equipment