Compactor aids in recycling of PE foam plank.
Press Release Summary: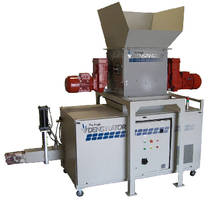 Able to handle both clean and dirty PE foam, Desinator(TM) Compactor helps minimize landfill and facilitates recycling. PE plank scrap is fed into hopper, shredded, compacted, and then run through light heating process. Material is compressed to 1/15th original size, resulting in high-density PE log measuring 6 x 6 x 48 in. with thin rigid outer shell. Logs can then be fed directly into most plastic reclaim systems. Unlike bailing systems, Desinator(TM) requires no strapping.
---
Original Press Release:

Pregis' Densinator(TM) Compactor Reduces Disposal Costs, Improves PE Foam Plank Recyclability



Deerfield, Ill., October 20, 2009-Pregis Corp.'s new Densinator(TM) compactor reduces disposal costs and improves polyethylene (PE) foam plank recyclability.

"Cost-effectively recycling foam plank has been an issue in many geographic locations because shipping scrap can oftentimes cost more than the value of the load. Without an economic incentive to recycle, scrap frequently ends up in landfills," explains, Tony Smith, general manager, engineered products, Pregis.

As part of its ongoing commitment to environmental initiatives, Pregis wanted to give manufacturers, converters and fabricators of PE foam plank a cost-effective alternative to aid in recycling efforts.

"A typical foam plank size is 48- x 108-inches. Fabricators use a variety of methods to cut the plank into the appropriate size and shape to protect and cushion products. End caps are just one example. What ends up being discarded are the leftover outer edges and other small pieces. When you multiply that by two or three hundred planks per day, that becomes sizeable," Smith says.

Pregis' Densinator compactor takes PE plank scrap, which is fed into a hopper, shredded, compacted and then run through a light heating process. The material is compressed to 1/15th its original size. The end result is a high-density PE log (6- x 6- x 48-inches) with a thin rigid outer shell which helps maintain the compact brick shape. Unlike bailing systems, no strapping is required, plus dust and debris are reduced. The logs can then be fed directly into most typical plastic reclaim systems.

"You can load 30,000- to 35,000-pounds of Densinator-produced logs onto a 40-foot tractor trailer. This compares to only 2,000- to 3,000-pounds of foam in an uncompressed state," says Smith.

The Densinator is easy and quick to install and startup. Minimum floor space is required and operation is safe, quiet and efficient. The compactor can handle both clean and dirty PE foam.

"The Densinator will help users of PE foam plank reduce a variety of fees including landfill, bin rental and hauling. Additionally, floor space requirements for storing scrap will be minimized as well as other "housekeeping" issues. The end result is an improved scrap value and a potentially higher recycling rate," Smith concludes.

About Pregis:

Pregis Corporation is a leading global provider of innovative protective, flexible, and foodservice packaging and hospital supply products. The company offers packaging and product solutions for a wide variety of consumer and industrial market segments including food and foodservice, healthcare, agriculture, automotive, furniture, electronics, construction, fulfillment, catalog and military/aerospace. The specialty-packaging leader currently operates 47 facilities in 18 countries around the world. For more information about Pregis, visit www.pregis.com.

Please forward sales inquiries to:

Pregis Corp.

1650 Lake Cook Road, Ste. 400

Deerfield, IL 60015

Phone: (877) 692-6163

Email: protectivesales@pregis.com