CompactFlash Cards add serial ports to portable devices.
Press Release Summary: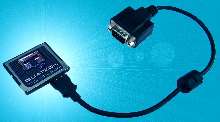 Housed in metal cases, CompactFlash cards enable users to add serial ports to handhelds, PDAs, tablets, laptops, and embedded systems for mobile computing applications. Models include one-port RS-232 serial CF card, 2-port RS-232 serial CF card, and one-port RS-422/485 serial CF card. They provide serial connectivity at rates to 921.6 kbps. Single-port cards provide ESD protection, and 2-port cards provide ±50 Vdc isolation for each port.
---
Original Press Release:

Quatech Introduces New Line of Serial CompactFlash Cards


CF+ cards extend industry's most complete product line with RS-232 and CF+ RS-422/485 serial ports for handheld, tablet, laptop and embedded CF+ PCs

Hudson, Ohio - October 30, 2003-- Quatech, Inc., the industry's fastest-growing manufacturer of serial connectivity products, today announces the expansion of its reliable serial port offerings with a new line of CompactFlash cards. These small-size serial cards provide robust functionality including industry-leading speeds, advanced power conservation features, and an extensive driver set. They are ideal for adding serial ports to handhelds, PDAs, tablets, laptops, and embedded systems for a wide variety of mobile computing applications including retail POS, field data collection, industrial monitoring and control, and office automation.

Most Handheld and Tablet PCs do not ship with serial ports, and these ports are becoming increasingly scarce on Laptop computers as well. CompactFlash (CF) is often the best expansion option for these small devices. Quatech's new line includes a one port RS-232 serial CF card (SSCF-100), a two port RS-232 serial CF card (DSCF-100), and a one port RS-422/485 serial CF card (SSCF-200/300). These additional ports can be used to connect to a wide variety of serial peripheral equipment including GPS receivers, bar code scanners, card readers, touch screens, printers, digital cameras, fax/modems, test stands, CNC machines and PLCs.

"We have been a leader in the mobile connectivity industry for over two decades," said Steve Runkel, Quatech's president and CEO. "Our PCMCIA connectivity line is widely recognized as the most robust and most complete in the industry. Our new serial CompactFlash cards are a natural outgrowth of that line. The CF line is central to our key business strategy of providing products that permit Quatech customers to leverage their investments in legacy peripherals while taking advantage of the latest technology advances in portable computing."

Quatech's new serial CF cards provide the highest speed serial connectivity available, up to 921.6 kbps-- an eight-fold improvement over the 115.2 kbps provided by a typical, non-optimized serial port. These cards can be used in any Handheld, PDA, Tablet, Laptop or Notebook computer with a CompactFlash slot. They can also be used in standard PCMCIA slots using a CF adapter card (not included). The cards are compatible with both 3.3V and 5V systems.

Quatech CF cards are small, light and have low power requirements, including a special feature that automatically reduces power consumption when terminal equipment is not connected. Single port cards provide ESD protected serial ports. Two port cards provide ± 50VDC isolation for each port. All are housed in a sturdy metal case and have a convenient removable connector cable. To ensure reliable connectivity in extreme environments, the single port RS-232 model is also available with a ruggedized attached cable (SSPR-100).

The cards are supported under Windows CE and Pocket PC, making them ideal choices for the most popular handheld devices. Support is also provided for Windows 95/98/Me/NT4/2000/XP and DOS, enabling the cards to be used with most Tablet, Laptop, and Desktop PCs as well.

Quatech will begin shipping the serial CompactFlash line on November 4, 2003. List pricing will be as follows: SSCF-100, 1-port RS-232 serial CF card with detachable cable: $129 SSCFR-100, 1-port RS-232 serial CF card with attached cable: $149 DSCF-100, 2-port RS-232 serial CF card with detachable cable: $199 SSCF-200/300, 1-port RS-232 serial CF card with detachable cable: $169

All Quatech CompactFlash cards are covered by a 5-year limited warranty.

For more information see Quatech's website at www.quatech.com, e-mail sales@quatech.com, or call 800-553-1170.

About Quatech

Quatech is focused on delivering the industry's most reliable serial connectivity solutions. Through quality design, superior manufacturing, and world-class service and support, Quatech maintains the highest levels of reliability that our customers need to achieve lower total cost of ownership for themselves and for their clients. Customers include Fortune 500 companies and government agencies as well as VARs and System Integrators in a variety of industries including financial services, retail, industrial process control, security, aerospace, and hospitality. Quatech is the number one provider of serial connectivity to financial institutions, serving five of the top 10 U.S. banks. Founded in 1983 and headquartered in Hudson, Ohio, Quatech sells and supports its solutions both direct and through a global network of distributors. www.quatech.com.

Detailed Product Information on RS-232 serial CompactFlash cards is available online from: http://quatech.com/catalog/rs232_cf.php

Detailed Product Information on RS-422/485 serial CompactFlash cards is available online from: http://quatech.com/catalog/rs422_cf.php

If you have questions, need more information, or would like an actual photograph of Quatech's serial CompactFlash cards please contact:

Lisa Hephner
Media Manager
Quatech, Inc.
330-655-9037
lhephner@quatech.com
www.quatech.com

More from Communication Systems & Equipment