Compact Welding Systems for Use on the Go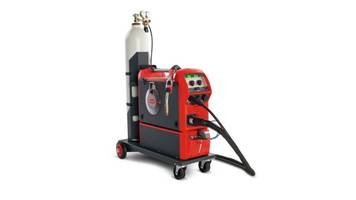 Fronius has expanded its tried and tested TPS/i series to include the TPS 270i C PULSE and TPS 320i CPULSE power sources with an integrated wirefeeder. The new entrants, designed for welding currentsof up to 270 A and 320 A respectively, combine the outstanding features of the TPS/i platform in anextremely compact housing, and are equally suited to MIG/MAG, TIG DC and MMA welding. Thesepower sources can be used anywhere, and with their space-saving construction, are the ideal solutionfor mobile applications in workshops and on construction sites.
Despite their compact design, the TPS 270i C PULSE and TPS 320i C PULSE leave nothing to be desired interms of performance and flexibility. In addition to the pulse welding package included in the scope ofdelivery, the proven standard welding package from Fronius is available as an option, as well as packagesfor LSC (Low Spatter Control) and PMC (Pulse Multi Control) processes developed for the TPS/i series.Numerous pre-prepared characteristics and useful functions simplify the welding process, such asSynchroPulse for achieving flaking in the weld seam similar to that of TIG welding.
Carefully considered details, including colour-coded wirefeeder rollers corresponding to the wire diameter, a viewingwindow to quickly check how much wire remains and an easy-to-understand user interface, also make it easier to usethe welding system.
Furthermore, numerous equipment options and a wide range of accessories, such as gas or water cooling, aremote control or a handy PullMig welding torch, enable the devices to be adapted quickly and easily to thespecific circumstances and range of applications. As the fully digitised power sources can access the internet, itis extremely easy to upgrade and update the software on site.
The new devices are available for all standard mains voltages and mains frequencies, meaning they can beused worldwide.
The TPS 270i C PULSE and TPS 320i C PULSE enable welders to achieve outstanding results with highrepeatability and boast maximum productivity in any given location, even under extreme conditions.
More from Material Handling & Storage