Compact Vacuums eliminate dust from point of source extraction.
Press Release Summary: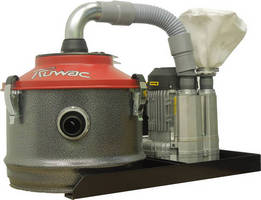 Offering continuous-duty operation, Compact-Vac portable and low-profile vacuums provide filtered separation that facilitates removal of fine dust and particles. Features include solid, all-metal container, air flow rates to 216 cfm, and extended options such as HEPA. Custom silencer diffuses air and suppresses sound without interfering with system. Offering sanitary solution for re-use without cross-contamination concerns, vacuums can handle multiple operators and extended hose lengths.
---
Original Press Release:

Ruwac's Compact-Vac Eliminates Dust from Processing Point of Source Extraction



Often, fine dust and particles are left behind as a by-product during process manufacturing, making them a housekeeping nuisance or potential waste of product. Ruwac's Compact-Vac offers continuous duty operation point of source extraction with highly efficient filtered separation that makes removing fine dust easier than ever! This vacuum series features a portable low-profile design that can be placed just about anywhere in a facility or shop. Thanks to its quiet operation, you won't have to worry about it becoming a distraction while hard at work. The Compact-Vac also collects fine dust and particles into a solid all-metal container for quick and clean collection while boasting an efficient filtration system with extended options such as HEPA. It provides a sanitary solution for re-use without the worries of cross-contamination!



The Compact-Vac also uses VPK Series vacuum producers that perform at the ultimate level. Featuring air flow rates up to 216 CFM, the VPK Series is capable of handling multiple operators and long lengths of hose. Each VPK vacuum producer is equipped with a TEFC (Totally Enclosed Fan Cooled) continuous duty motor and mounted on a stand to ensure stability. An automatic relief valve protects the vacuum system from overheating if airflow is stopped due to blockage. Ruwac specifically engineers each VPK system to include a custom silencer to diffuse air and suppress sound without interfering with the performance of the system.



You need an industrial vacuum system that won't compromise the manufacturing process while eliminating fine dust and particles out of the equation. With the leading manufacturer of portable, central and specialty industrial vacuum systems on your side, Ruwac's Compact-Vac is your answer. Made in the USA, Ruwac's industrial vacuums are known for their reliability, innovative design and superb filtration. For more information on Ruwac's product lines, visit www.ruwac.com. You can also contact Ruwac by telephone at (413) 532-4030 or via e-mail, info@ruwac.com.

More from Textile Industry Products