Compact Track Loaders combine power and ergonomics.
Press Release Summary: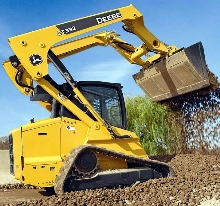 Hydraulic CT 322 and CT 332 feature unified design that delivers 360° visibility and incorporates reinforced booms, 2-speed transmission, and self-leveling bucket. Powered by 4024T engine producing 62 hp @ 2,800 rpm, CT 322 offers 3,410 lb boom breakout force and 4,300-6,050 lb bucket breakout force. Model CT 332, powered by 5030TW engine producing 76 hp @ 2,800 rpm, features 6,650 lb boom breakout force and 8,210-11,600 lb bucket breakout force.
---
Original Press Release:
New John Deere Compact Track Loaders Maximize Productivity
MOLINE, Ill. (March 16, 2005)--With many best-in-class features, the new Deere CT 322 and CT 332 set a new benchmark for compact track loaders (CTLs). John Deere's initial entries into the market deliver numerous advantages over current CTLs, including unmatched stability, visibility, serviceability, smoothness of ride, flotation and tractive efforts. Combine massive breakout forces--the best in the industry--with reinforced booms, thicker upper links, larger cooling capacity, and larger fuel tanks, and the result is the toughest CTLs on the market, according to Larry Foster, product marketing manager, John Deere Construction & Forestry Company. "These machines were designed with rigorous compact track loader applications in mind--they can absorb the higher loads from increased pushing power and breakout forces," Foster said. "They're not just a skid steer with tracks." Both models feature a two-speed transmission, hydraulic Quik-Tatch(TM), a self-leveling bucket, high-flow hydraulics and a comfortable HVAC system. The comprehensive instrumentation panel displays vital operating information and features sealed, easy-to-operate rocker switches. The CT 332 offers servo controls and an ergonomically shaped armrest for finger light efforts with maximum control. With unmatched stability, the CT 322 and CT 332 can lift, carry and work where other machines cannot. Massive breakout forces deliver more digging power, and pushing power is maximized by superior tractive efforts. Faster ground speeds provide more cycles per hour than other machines. Deere's patented true vertical lift boom provides greater stability in the work zone (ground level to six feet) with superior reach at full lift height for center load placement during truck loading operations. Another significant benefit is excellent flotation, which is provided by lower ground pressure. Several advancements to the undercarriage design provide an optimal ride. Large diameter idlers enhance the ride and durability of the steel reinforced rubber track, while a patented undercarriage design allows the front idler and front roller to move in tandem for a smoother ride. Additionally, lifetime seals and durable all-steel double flange rollers and idlers ensure a superior, longer-lasting undercarriage that will not deteriorate and degrade over time like rubber-coated rollers. The overall design significantly enhances productivity, according to Foster. "As with our skid steers, the unified design of these compact track loaders delivers 360-degree visibility as well as best-in-class breakout forces and industry-leading bucket capacities," he said. "Simply put, they move more material every cycle than the competition." Like John Deere skid steers, the CT 322 and CT 332 offer daily simplified maintenance and generous oil change intervals (500 hours when Plus-50 oil and Deere oil filters are used) lowering daily operating costs. Track adjustment is made by using a simple grease gun, and the open, Easy Clean undercarriage simplifies day-end cleanup and avoids excessive track wear because there's less material build-up. The oil cooler mounting in the rear swing-out door makes cleaning a snap. Lift-up top cover, swing-out rear door, lift-off side panels and quick pivoting ROPs provide unmatched 360-degree access to all components. Several additional features contribute to maximized uptime. Routing for the track drive motor plumbing is internal, with full metal guards--a feature that's unique to Deere machines. All-steel drive sprockets, idlers and rollers designed from Deere's larger crawler dozers provide a longer life heavy-duty undercarriage. The stability, traction and flotation of these machines enhance their versatility, especially in adverse working conditions. "Compact track loaders are particularly effective in soft, wet and steep terrain, as well as turf," Foster said. "Customers are finding them to be an excellent tool for final grades on hillsides, landscaping, site development, and excavation in dry or wet soil conditions." About John Deere: John Deere (Deere & Company-NYSE:DE) is the world's leading manufacturer of agricultural and forestry equipment; a major manufacturer of construction equipment; and a leading supplier of equipment used in lawn, grounds and turf care. Additionally, John Deere manufactures engines used in heavy equipment and provides financial services and other related activities that support the core businesses. Since it was founded in 1837, the company has established a heritage of quality products and services providing performance that endures to customers worldwide.
Key Specifications: CT 322 CT 332 Engine 4024T 5030TW Net Horsepower 62 @ 2,800 rpm 76 @ 2,800 rpm Fuel Capacity 18.5 gal 29 gal. Tipping Load 6,400 lbs. 9,200 lbs. Breakout Forces: Boom 3,410 lbs. 6,650 lbs. Bucket (w/ heavy duty foundry) 6,050 lbs. 11,600 lbs. Bucket (w/ heavy duty constr.) 4,300 lbs. 8,210 lbs. Operating Weight 8,305 lbs. 10,825 lbs. Ground Pressure: 12.6 track 17.7 track N/A Std. Equip. 5.1 psi Std. Equip. 4.3 psi Opt. Equip. 6.0 psi Hydraulic Horsepower: Standard flow 38.2 hp 43.4 hp High flow 58 hp 61.5 hp Transmission Manual hydrostatic Servo hydrostatic Height to hinge pin 115.2 in. 127 in. Tractive effort 8,000 lbsf. 10,400 lbsf. Dump angle (full height) 43 degrees 45 degrees Bucket rollback (at ground) 33 degrees 35 degrees Ground clearance 906 in. 11 in.
More from Software