Compact Track Loader has 74 hp Tier 4 turbo diesel engine.
Press Release Summary: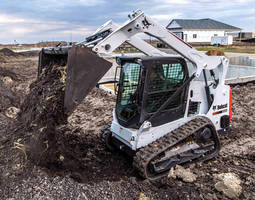 Suited for pushing or digging applications, vertical-lift-path T595 has 2,200 lb rated operating capacity and rubber tracks that minimize ground disturbance. Width of 68 in. with standard construction/industrial bucket allows work in confined spaces, and over 50 Bobcat® attachments are supported. Max travel speed is 7.1 mph standard, and 2-Speed travel option offers 10.4 mph as high range. Other options include Advanced Control System (ACS) and Selectable Joystick Controls (SJC).
---
Original Press Release:

New Bobcat T595 Compact Track Loader Boasts the Most Horsepower in its Size Class



(WEST FARGO, N.D.) The new 74-horsepower Bobcat® T595 compact track loader features increased horsepower and performance for pushing or digging applications, without the need for operators to move up to a bigger machine.



With a 2,200-pound rated operating capacity and improved lift force, the T595 compact track loader from Bobcat Company can help increase jobsite productivity, plus it can move or carry more material with an attachment to increase jobsite efficiency.



At 68 inches wide with a standard construction/industrial bucket, the loader's compact size allows it to work in confined spaces, move confidently within a congested worksite or travel between homes. Its rubber tracks cause minimal ground disturbance for fewer repairs to established lawns when a project is complete.



Market segments

The vertical-lift-path T595 is a productive and versatile machine for a variety of market segments that require a powerful and durable compact track loader. Operators working in construction, landscaping, agriculture and utilities can choose from more than 50 genuine Bobcat attachments approved for use with the T595. Non-hydraulic attachments can be changed easily from inside the cab with the press of a button to activate the Power Bob-Tach® attachment mounting system, further increasing jobsite productivity.



Construction contractors can complete tasks such as excavating, grading or site preparation more efficiently with the T595 to increase jobsite profitability. Landscaping professionals and agriculture producers also benefit from the machine's increased performance while staying within a compact size frame, ideal for working on tight lot lines between homes, or in barns and cattle pens where space is limited.



Bobcat T595 compact track loaders come with standard controls (hands and feet). The Advanced Control System (ACS) and Selectable Joystick Controls (SJC) are available as options.



Option: 2-Speed travel

Available on the new T595 is a 2-Speed travel option that allows operators to choose between low and high travel speeds to better match the jobsite conditions and tasks. A best-in-class travel speed of 10.4 mph in high range boosts jobsite productivity. This option will become available during summer of 2016.



Uptime protection

The T595 incorporates multiple design elements to help protect the owner's investment and minimize machine downtime.

• Transversely mounted engine allows for easy access to daily maintenance items to encourage operators to perform the tasks.

• Simple checkpoints make it easier to perform maintenance at the proper intervals.

• Auxiliary quick couplers are mounted directly to the front plate of the lift arm to provide solid mounting, and hoses are routed through the loader arms for better protection.

• Guard bar extends in the front of the coupler for added protection and less downtime.

• Solid steel tailgate protects the machine from damage and minimizes downtime.

• Standard machine shutdown protection system automatically shuts down the machine to avoid catastrophic failure. Monitors engine coolant temperature, engine oil pressure and engine rpm.



With the introduction of the T595 compact track loader, Bobcat Company now offers its customers 10 unique compact track loader models to choose from. Bobcat Company introduced its first compact track loader — the 864 — in 1999 and has since made significant refinements to the machines, including a new undercarriage in 2015, to increase the machines' performance and jobsite productivity.



QuickLook: T595 Compact Track Loader

Rated operating capacity (35 percent of tip): 2200 lb. (998 kg)

Rated operating capacity (50 percent of tip): 3142 lb. (1425 kg)

Lift path: Vertical

Engine: 74 hp Tier 4-compliant turbo diesel (55.2 kW)

Engine does not require a diesel particulate filter (DPF) or diesel exhaust fluid (DEF)

Lift height to hinge pin: 119 in. (3353 mm)

Operating weight: 8055 lb. (3654 kg)

Auxiliary hydraulic flow: 17.1 gpm (64.7 L/min)

High-flow option: 26.7 gpm (101.1 L/min)

Max. travel speed: 7.1 mph (11.4 km/h)

Ground pressure (rubber tracks)

Standard 12.6-inch tracks: 5.1 psi (0.35 bar)

Optional 15.8-inch tracks: 4.1 psi (0.28 bar)

Advanced Control System: Optional

Selectable Joystick Controls: Optional

2-Speed travel: Optional

Roller Suspension™ system (undercarriage): Optional

Auto idle: Optional with SJC-equipped models



ABOUT BOBCAT COMPANY

Bobcat Company, headquartered in West Fargo, N.D., is a worldwide leader in the manufacturing and distribution of compact equipment. Bobcat compact equipment includes skid-steer, all-wheel steer and compact track loaders; compact excavators; mini-track loaders; VersaHANDLER® telescopic tool carriers; utility vehicles and Toolcat™ utility work machines. Bobcat is a global brand with more than 550 dealer locations in North America and the leader in compact equipment — the industry's original innovator, beginning more than 50 years ago with the first compact machine and predecessor to the skid-steer loader. Bobcat Company is a subsidiary of Doosan Bobcat Inc. For more information on Bobcat products, visit Bobcat.com.



Certain specification(s) are based on engineering calculations and are not actual measurements. Specification(s) are provided for comparison purposes only and are subject to change without notice. Specification(s) for your individual Bobcat equipment will vary based on normal variations in design, manufacturing, operating conditions, and other factors.



For additional information about Bobcat Company, its products and services, point your Web browser to Bobcat.com/our_company/media_center.



Bobcat®, the Bobcat logo and the colors of the Bobcat machine are registered trademarks of Bobcat Company in the United States and various other countries.



©2016 Bobcat Company. All rights reserved.

More from Electrical Equipment & Systems