Compact Torque Motors are available with plug-in or solid shaft.
Press Release Summary: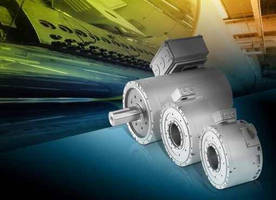 Series 1FW3 torque motors are available in plug-in shaft version with axis heights of 150, 200, and 280 mm, while solid shaft models are offered for axis heights of 150 and 200 mm. Both versions have rated torque rotational range from 100-7,000 Nm. At height of 280 mm, rated speed range is from 250-600 rpm, suiting motors for use as roller drives. Units are water-cooled and rated power range for all versions is from 3-380 kW.
---
Original Press Release:

Siemens Extends Its Range of the 1FW3 Torque Motor Series



In addition to the previously available hollow-shaft motors, the Siemens Drive Technologies Division is now also offering versions with a plug-in shaft and solid shaft in the form of the 1FW3 torque motor series. What's more, the rated speed range has also been increased. As such, the torque motors' field of application now extends to roller drives, cross cutters, winders or silicon cutting etc.

In place of motor-gear assemblies, torque motors are becoming the tool of choice to drive rotary axes, for example, in plastics machinery, the paper industry, textile and printing machinery, as well as in molding technology. In addition to their compact design, they excel due to their precise concentricity, high dynamic response and extremely rugged structure. As a result of their high degree of rigidity, the torque motors are able to directly control manufacturing processes in combination with the Siemens Sinamics S120 drive system. This not only increases the quality of the products manufactured at the plants, but also maximizes productivity and availability of machines.

In addition to the previously available hollow shaft version with axis heights (AH) of 150, 200 and 280 mm, Siemens is now offering motors with plug-in shaft or with a solid shaft. While the version with the plug-in shaft is available for all three axis heights, the solid shaft is offered exclusively for axis heights of 150 and 200 mm. The rated torque rotational range for the three versions will still range from 100 to 7,000 Nm. At an axis height of 280 mm, the rated speed range has been increased from 250 to 600 rpm for all versions. The motors are therefore ideally suited to be used as roller drives. Extending the series with the new mounting versions has greatly facilitated both the mounting and alignment processes, the extent of which depends on the application in question.

Moreover, when it comes to replacing the encoder for the plug-in and solid shaft solution, this is certainly a much more straightforward process. The rated power range for all versions is from 3 to 380 kW. 1FW3 motors are water-cooled. An electronic rating plate and the Drive-Cliq system interface from Siemens pave the way for smooth commissioning. The motors can be dimensioned with ease using the Sinamics Sizer calculation tool.

More information: siemens.com/torquemotors

In addition to the previously available hollow-shaft motors, the Siemens Drive Technologies Division is now also offering versions with a plug-in shaft and solid shaft in the form of the 1FW3 torque motor series.

The Siemens Industry Sector (Erlangen, Germany) is the worldwide leading supplier of environmentally friendly production, transportation, building and lighting technologies. With integrated automation technologies and Siemens AG Corporate Communications and Government Affairs comprehensive industry-specific solutions, Siemens increases the productivity, efficiency and flexibility of its customers in the fields of industry and infrastructure. The Sector consists of six divisions: Building Technologies, Drive Technologies, Industry Automation, Industry Solutions, Mobility and Osram. With around 204,000 employees worldwide (September 30), Siemens Industry achieved in fiscal year 2010 total sales of approximately Euros34.9 billion.

www.siemens.com/industry

The Siemens Drive Technologies Division (Nuremberg, Germany) is the world's leading supplier of products, systems, applications and services for the entire drive train with electrical and mechanical components and motion control systems for production machinery as well as machine tools. Drive Technologies serves all segments in manufacturing industry, process industry and energy/infrastructure. The division provides answers to the customers´ key requirements productivity, energy efficiency and reliability. In fiscal year 2010, around 36,000 employees of the Division (September 30), achieved total sales of Euros7.0 billion.

Wittelsbacherplatz 2, 80333 Munich

Germany

Reference number: IDT201102.3019 e fp

Media Relations: Franz-Ferdinand Friese

Phone: +49 911 895-7946

Email: franz.friese@siemens.com

Siemens AG

Industry Sector - Drive Technologies Division

Gleiwitzerstr. 555, 90475 Nuremberg, Germany

www.siemens.com/drivetechnologies

More from Communication Systems & Equipment