Compact Thin Film Evaporator offers deposition rate control.
Press Release Summary: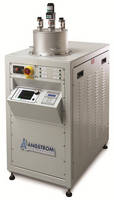 Occupying 600 x 1,000 mm footprint, Covap II provides laboratories researching organic electronics, PVs, and other thin film applications with deposition rate control as well as recipe storage. Clean room compatible system incorporates 300 mm dia x 365 mm tall clam-shell chamber design that promotes accessibility and fixturing which supports up to 100 mm dia substrates. Other features include automated pumping sequences and recipe-based depositions with process data logging.
---
Original Press Release:

Covap II Delivers Advanced Deposition Rate Control in a Compact Thin Film System



KITCHENER, ON - Angstrom Engineering's newly launched Covap II is a complete, but compact, economical solution suitable for many thin film process applications including thermal evaporation and magnetron sputtering. University, commercial and government laboratories researching organic electronics, photovoltaics and other applications can now achieve advanced deposition rate control and have such options as closed loop co-deposition control and recipe storage. Clean room compatible, this miniature system has a 600mm by 1000mm footprint which suits restricted, valuable lab spaces.

Systems of this size often use a bell-jar vacuum chamber design which requires the components to be mounted from the bottom of the system. This imposes restrictions on stage fixturing and reduces accessibility to the inside of the chamber. Instead, Angstrom created a unique ø300mm x 365mm tall clam-shell chamber designed to improve accessibility. A clam-shell chamber hinges the vacuum chamber in the centre providing excellent access to the inside of the system, significantly improving day to day performance and cleaning and maintenance tasks. This advantage is magnified when dexterity is reduced while working in a glove box, common when using air sensitive materials.

The Covap II evaporator has features often restricted to much larger systems: recipe-based depositions with process data logging, automated pumping sequences and fixturing which supports up to 100mm diameter substrates. While small thin film deposition systems are typically designed to be inexpensive, Angstrom set out to design and build a tool that did not compromise on quality or features but was still budget sensitive. By offering this type of system in a smaller package, Angstrom was able to reduce cost and machine footprint while still retaining industry's most desirable attributes.

Angstrom's Engineering's Sales & Marketing Manager, Andrew Campbell, [P.Eng.] points out that, "For processes requiring controlled atmosphere integration, the Covap II is design ready to be built into a new or existing glove box. PVD process challenges are solved by using the inert atmosphere of a glove box. This total system integration allows non-PVD and PVD processes to be connected within a controlled environment. The integrated system allows sensitive materials and substrates to be stored, then moved from process to process and tested without exposure to the room environment. Given our performance across the globe, we're now an internationally recognized supplier of PVD thin film equipment."

About Angstrom Engineering
Architects of high quality PVD systems that meet the needs of an ever-changing research market, Angstrom's engineers are experts in physical vapor deposition processes such as sputtering, electron beam evaporation, resistive evaporation, vapor phase deposition and ion assisted processes. Their broad set of technological capabilities has led to 'best practices' for the application and the machine, capable of building devices using multiple process technologies. Known for their unique strength in working with air sensitive materials, Angstrom's machines integrate industry's best glove practices.

Angstrom Engineering Contact:
Andrew Campbell, P.Eng., via email at ACampbell@angstromengineering.com or phone toll-free at 800.695.8270 extension 104. Visit the company's website at www.angstromengineering.com.

More from HVAC