Compact Test Chambers Now Include Touch Screen Controller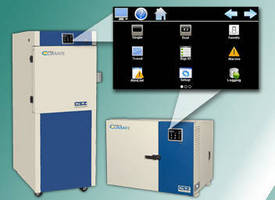 Cincinnati Sub-Zero (CSZ) has exciting news for those testing & storing small products in specific temperature & humidity conditions.  The MicroClimate® product line, which includes a 1.2 cu. ft. benchtop model (http://www.cszindustrial.com/Products/Micro-Climate-Benchtop-Chambers.aspx) and a 3 cu. ft. compact test chamber(http://www.cszindustrial.com/Products/Temperature-Chambers/Micro-Climate-Compact.aspx), is now equipped with the new EZT-430i Touch screen Controller, which can be operated like a Smart Phone or Tablet and is loaded with features to simplify test chamber programming & operation. These features include:



- Selectable navigation between icon-based menus like a smart phone or windows-based navigation.



- Remote Control & Monitoring via Ethernet from a computer or through apps available for iPhone, iPad or Android devices.



- Data logging with customized file names, batch & lot numbers and operator events.



- Integrated email sends data files directly from the controller with the touch of a button.



- Access data files directly from the controller or a PC, can also download profiles, alarm files, audit trail files and data files to USB memory stick in a compatible .CSV format.



- Alarm notification via email and/or phone text messages in the event of a test chamber alarm saving valuable tests while reducing downtime.



- Automated "Ethernet" back-up of data files.



- Full system security, audit trails & digital signatures



- Configured in 28 different languages- one setting updates icons, menus and help screen.



In addition, a new single stage model has been added to the product line. The product line only included a benchtop model with a temperature range from -73°C to +190°C. Due to the multiple requests of customers that seldom need to test their product down to these cold temperature ranges, CSZ designed a model with a more mild temperature range from -30°C  to +190°C.  All models are available with or without humidity.



About MicroClimate®

MicroClimate® chambers are designed to provide users with a compact chamber for testing small components and products for a variety of industries. Whether a MicroClimate® chamber is used to perform temperature cycling tests or expose product to steady state temperature environments, these chambers will maintain precise and accurate temperature and/or humidity control.



About Cincinnati Sub-Zero (CSZ)

CSZ provides standard & custom-designed environmental test chambers including stability chambers,  temperature-cycling chambers, humidity chambers, accelerated stress-testing chambers, HALT & HASS chambers, thermal-shock chambers, altitude chambers, AGREE vibration chambers, industrial freezers, and more.  Sizes range from small benchtop chambers to full walk-in / drive –in rooms. Please visit http://www.cszindustrial.com for additional information.