Compact Switching Power Supplies support worldwide usage.
Press Release Summary: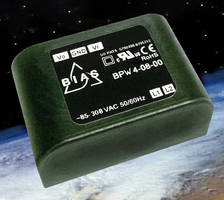 Measuring 1.90 x 1.31 x 0.98 in., IP66-rated BPW 4 Series provides up to 4 W output at 8, 14, and 24 Vdc as well as optional 3.3 and 5.0 Vdc output. Products handle wide load variations and accept 85-308 Vac, 50/60 Hz universal input. Along with no-load power consumption of less than 30 mW, power supplies feature constant power mode and greater than 500,000 hr MTBF. Output power does not degrade over -30 to +70°C operating range, and circuit design also eliminates line EMI.
---
Original Press Release:

4 Watt "WORLD READY" Switching Power Supplies, Under 2.5 Cubic in Size, Regulatory Ready



Targeting the many electronic applications requiring 4 watts or less, the new Bias Power BPW 4 Series micro-size switching power supplies can solve many problems for design engineers. The BPW 4 is smaller than alternate "one component" solutions and is available with single or dual output. BPW 4 supplies are world-ready with 85-308VAC, 50/60Hz universal input and extremely high reliability.

The BPW 4 handles the widest possible load variations and has a no-load power consumption of less than 30 mW. Its unique "constant power" mode delivers maximum usable power when pushed, so it actually outperforms many constant current circuits. In addition, the BPS 4 output power does not degrade over the operating temperature range (-30 to +70° C). Regulatory approvals are greatly simplified as the patented* circuit design also effectively eliminates line EMI, so that no input filtering is required.

Meets EN 55022, Class B; FCC Part 15, Class B as well as UL/CSA and EN Product Safety (ITE).

The BPW 4 Power Supply Module is an ideal solution for numerous control applications in lighting, sensing, smart building and power distribution where operation from 277VAC mains is required. This low-cost supply provides up to four watts of output power at 8, 14 and 24 VDC (Vo) and optional 3.3 and 5.0 VDC (Vr) output for microprocessors, logic, timing circuits, transceivers, sensors or other control functions. The Bias Module is an immediate "drop-in" solution, requiring no additional external components. At just 1.90 x 1.31 x 0.98 inches (48.3 x 33.3 x 24.9 mm); with a volume of just 2.45 in3 (40.1 cm3), the BPS 4 is a real space saver.

Extremely rugged construction (rated to IP66), makes the BPW 4 well suited for portable and harsh environment applications. Because it is a ready-to-apply solution, use of the BPW can shorten the design cycle and eliminate the need to source and inventory multiple power supply components. And as a single-component solution, with >500,000 hours MTBF, the module can greatly improve product reliability, while eliminating the need to source and inventory dozens of discrete components.

BPW 4 Series Power Supplies are available for immediate sampling with 4-6 week delivery for production. For more information, contact Bias Power, Inc., 1330 Busch Pkwy, Buffalo Grove, IL 60089 Phone 847-215-2427; Fax 847-215-2914. sales@biaspower.com www.biaspower.com Link to product datasheet. www.biaspower.com/wp-content/uploads/BPW-4-DS-08222011.pdf

Bias Power is a leading designer and manufacturer of low power, universal input, AC/DC power supplies and LED power sources. Standard and semi-custom products are ideal for emerging "Green" applications and anywhere that low power, efficient, physically small, application-versatile AC/DC power is required.

*US Patents 6,295,212 and 5,790,390

More from Test & Measurement