Compact Scraper Assembly provides uniform roll/belt cleaning.
Press Release Summary: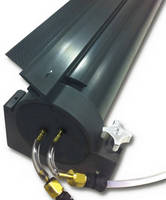 Featuring rugged and compact construction with lightweight alloy, VeriLite(TM) scraper assembly removes contaminants such as dirt, scale, coatings, and adhesives that can lead to operational or runnability issues. Self-pivoting scraper blade holder provides precise blade loading against roll or belt for uniform cleaning, while overall design accommodates applications where installation space is restrictive.
---
Original Press Release:

Kadant Solutions Introduces VeriLite(TM) Scraper for Uniform Roll and Belt Cleaning



Auburn, Mass. - Kadant Solutions, a division of Kadant Inc. (NYSE:KAI), announced the new product launch of its VeriLite(TM) scraper assembly for cleaning the roll and belt surfaces. The patent-pending VeriLite scraper assembly is a compact, light-weight yet rugged device designed to effectively remove contaminants such as dirt, scale, coatings, and adhesives that can lead to operational or runnability issues. The self-pivoting scraper blade holder provides precise blade loading against the roll or belt resulting in highly uniform cleaning.

According to Jerry Vandoros, product manager at Kadant Solutions, "The VeriLite scraper was designed specifically for applications where installation space is tight and the cleaning uniformity demands are high. Utilizing strong, lightweight alloys allowed us to design a system that is both ultra-compact and can be installed in applications where conventional scrapers cannot. Our customers using VeriLite scraper assemblies have been pleased with the ease of installation, cleaning effectiveness, and the low maintenance requirements."

Kadant Solutions, based in Auburn, Massachusetts is a leading supplier of doctor blades, doctor blade holders, and doctoring systems for papermaking and other industrial processes. The division's water management products are applied to the cleaning of forming and press fabrics and the filtration of process water.

Kadant is a leading supplier to the global pulp and paper industry. Our stock-preparation, fluid-handling, doctoring, and water-management equipment and systems are designed to increase efficiency and improve quality in pulp and paper production. Many of our products, particularly in our fluid-handling product line, are also used to optimize production in other process industries. In addition, we produce granules from papermaking byproducts for agricultural and lawn and garden applications. Kadant is based in Westford, Massachusetts, with revenues of $335 million in 2011 and 1,700 employees in 17 countries worldwide. For more information, visit www.kadant.com.

Danielle Rohrer
Marketing Manager
Kadant Johnson Inc.
805 Wood St.
Three Rivers, MI 49093 USA
Tel: +1-269-273-3076 ext 2261
Fax: +1-269-273-2230
Email: danielle.rohrer@kadant.com
Web: www.kadant.com

More from Material Processing