Compact SAPR Brakes are suited for mobile applications.
Press Release Summary: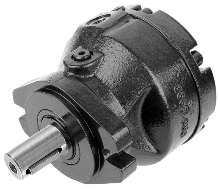 Directly coupled to output shaft, SB brake uses spring-applied/pressure-release, wet multiple-disc technology to provide fail-safe brake capability. Wear components are immersed in fluid and environmentally sealed to prevent contamination and corrosion. Constructed with cast iron housing, case hardened steel shaft, and cylindrical bearing, product has max static load-holding capacity of 5,500 lbf-in. for standalone or brake/motor combinations.
---
Original Press Release:

White Hydraulics, Inc. Introduces NEW Line of Rugged, Compact, Spring-Applied/Pressure-Release Brakes For Cranes, Winches, Lifts And Other Mobile Applications


White Hydraulics, Inc. is pleased to announce the release of our SB brake line. "The SB brake line's compact design (137mm [5.4 in diameter x 115mm [4.53 in length) and large, static load-holding capacity (620 Nm [5500 lbf-in) makes it a cost effective alternative to standard SAE-B brakes for truck-mounted cranes, winches, aerial boom lifts, marine winches, recycling equipment, drill-rigs, specialty skid-steer attachments and other mobile applications," says Paul Klassy, director of marketing. "The SB brake can be used in standalone applications or in conjunction with any SAE-A motor, including our RS, RE and HB series."

Directly coupled to the output shaft, the SB brake uses proven, spring-applied/pressure-release (SAPR), wet multiple-disc technology to provide fail-safe brake capability. All wear components are fully immersed in (factory pre-filled) fluid and are environmentally sealed to prevent contamination and corrosion while providing extended brake life and maintaining proper holding capacity.

The SB is ruggedly constructed with a cast iron housing, case hardened steel shaft, and cylindrical bearing to provide long life and quiet, trouble-free operation. The brake is painted a standard dark metallic gray, however, black and no paint options are available.

It can handle side loads up to 22,000 N (5000 lbf) and has a minimum and maximum release pressure of 20bar (290 psi) and 250bar (3,625 psi), respectively. The release pressure is applied through a 7/16-20 SAE o-ring or 1/4 -19 BSPP port, and is independent of motor pressure allowing it to be applied with the motor in series circuits and not be affected by motor backpressure.

The SB brake is available in 5 torque ranges from 225 Nm (2,000 lbf-in) to 620 Nm (5,500 lbf-in). Both 2-bolt and 4-bolt output mounting options are available along with metric mounts, long (5.3mm [0.21 in.) and short (2.8mm [0.11in.) pilots and a variety of input (25mm keyed & 1" 6B spline) and output (1" keyed, 25mm keyed, 32mm keyed, and 1" 6B spline) shaft options making the SB brake globally interchangeable. One brake can be used for either standalone or brake/motor combinations by removing the cover plate on the rear of the brake - adding to design flexibility.

Samples are available through our network of distributors allowing engineers to test the brake to ensure it meets their specific application.

About White Hydraulics, Inc.

Founded in 1977, White Hydraulics is the world's largest independent manufacturer of low speed high torque hydraulics motors. Complimentary products include brakes, flow dividers, variable displacement piston pumps and accessories. Product, service and support are available worldwide through our facilities located in North America, Europe and Asia and our global network of over 170 distributors.

For information on this and other products visit our website at www.whitehydraulics.com

Company Contact:

Paul Klassy
Director, Marketing
White Hydraulics, Inc.
T: +1 270 885 1110 x132
pklassy@whitehydraulics.com

More from Communication Systems & Equipment