Compact RGB LED efficiently replaces 3 single-color LEDs.
Press Release Summary: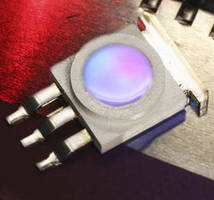 With color rendering performance optimized for consistency, AstraLED(TM) RGB provides ultra-bright, full-color output in 3 W high-power package. It delivers light intensity of 8, 25, and 20 lumens, respectively, at 300 mA (red), 350 mA (green), and 350 mA (blue) currents for applications requiring bright, intense light with low power consumption. Operating over -30 to +85°C range, RoHS-compliant product occupies 0.39 x 0.63 in. footprint and has off-the-board height of 0.13 in.
---
Original Press Release:

Lumex Launches Innovative 3-Watt AstraLED RGB LED



Unique high-power RGB LED combines cost and space savings with superior performance

PALATINE, IL - Lumex announces an expansion of the company's extensive line of high-power technologies with the introduction of AstraLED(TM) RGB, an innovative high-power LED that combines cost and space savings with superior color performance.

"AstraLED RGB is ideal for a wide variety of kitchen appliance, communications equipment, medical device, automotive and sign applications that require bright, intense light with low power consumption," explains Jeff Oliveros, Director of Engineering for Lumex. "High-power LEDs are a rapidly growing market and innovative RGB high-power LEDs represent the latest generation of technology designed to enhance efficiencies and provide design engineers with greater opportunities for color innovation."

The use of an AstraLED RGB can result in up to a 30% cost savings , as well as 67% real estate package savings when compared to the use of individual high power red, green and blue packages. The use of a single RGB package also enhances production efficiencies as a single part number eliminates the need for three separate LED part numbers.

The high-power AstraLED RGB provides color rendering performance that is superior to traditional phosphor converted high-power white LED technologies. This feature offers enhanced color consistency and is especially beneficial in both consumer and commercial appliance lighting applications that require warm white that closely matches incandescent lighting, such as accent lighting or landscape lighting.

The RoHS compliant AstraLED RGB provides ultra-bright, full-color output in a 3-Watt high-power package. AstraLED RGBs deliver light intensity of 8/25/20 lumens respectively at 300mA (red), 350mA (green) and 350mA (blue) of current with an operating temperature of -30°C ~ +85°C.

AstraLED RGBs have an off-the-board height of 3.3mm (0.13 inches) and occupy a circuit board footprint which is 10mm x 16mm (0.39 inches x 0.63 inches). They are available in tubes for automatic insertion.

The new units can withstand standard lead-free reflow soldering temperatures up to 260°C.

Samples of these devices are available from stock, with production quantities in 6-8 weeks. Pricing is dependent on quantity ordered, and is approximately $4.00 per unit in production quantities.

Lumex Contact Information

For additional information or engineering assistance:

In North America, contact Lumex's Sales Department, 290 E. Helen Rd., Palatine, IL 60067 USA. Phone: 1-800-278-5666. FAX: 1-847-359-8904. E-mail: lmxsales@lumex.com Web: www.lumex.com.

In Europe, contact Lumex's European Sales and Operations Center at Robert-Bosch-Str. 1, D-61267 Neu Anspach, Germany. Phone: +49-(0)6081-58 28 692. Fax: +49-(0)6081-58 28 693. E-mail: lumex-europe@lumex.com. Web (in Europe) www.lumex-europe.com.

In Asia, contact Lumex's Asian Pacific Headquarters at 3F, No. 972, Sec. 4, Chung Hsing Rd., Chu Dung, Hsin Chu County, Taiwan, ROC. Phone: +886-3-582-1124. FAX: +886-3-582-1154. Web (in Chinese): www.lumex.com.tw

About Lumex

Lumex, an ITW company, is a leading designer, manufacturer and distributor of optoelectronic components, devices and displays. These products are used mostly in the man-to-machine interface, and in some cases, for the detection of motion, short-range signaling, and fiber communications. Lumex offers thousands of high-efficiency, state-of-the-art optoelectronic components, devices and displays, with an emphasis on both application-specific and customer-specific parts for the North American, Asian and European markets.

The company is headquartered in Palatine, Illinois and Chu Dung, Hsin Chu County, Taiwan, ROC, with a Sales and Operations center near Frankfurt, Germany. Manufacturing facilities are located in Illinois, Taiwan and China with distributors throughout North America, Europe and the Pacific Rim. Since its inception in 1980, Lumex was established as a global organization offering application-specific solutions - but with the manufacturing efficiencies normally associated only with volume operations. Lumex received its initial ISO 9001 registration in 1996.

More from Packaging Products & Equipment