Compact Reversible Boom Crane maneuvers in tight places.
Press Release Summary: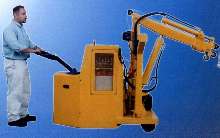 Designed for reaching above and beyond obstacles, counterweighted, all-steel crane has reach that extends beyond wheels in order to handle large containers or parts without requiring stabilizer legs. Lift and telescopic boom action is hydraulically operated, and propulsion is electro-mechanically operated and battery driven. Crane is offered in capacities from 1,000-20,000 lb with lift heights to 180 in. and has top speed of 4 mph.
---
Original Press Release:

Compact Reversible Boom Crane Allows Maneuverability in Tight Places


Air Technical Industries of Mentor, Ohio has developed a new variation to its popular line of Reversible Boom Cranes. Still the most versatile equipment for reaching above and beyond obstacles, the counterweighted crane is now available with a shorter overall length to allow for tighter turns in narrow aisles.

The optional boom rotation combined with the 90° steering capability of the self-propelled drive gives the Reversible Boom Crane an astounding level of flexibility in operation. It can now squeeze into the most confined areas imaginable and allow the operator to perform the required tasks quickly and efficiently.

The extra reach beyond the wheels is a great asset enabling a user to handle large boxes, containers, or parts without the legs of a typical floor crane to get in the way. It is ideal for assembly work where a crane needs to come in close to the work and precisely maneuver the load to reach over other objects.

The Reversible Boom Crane is available in capacities from 1000 pounds to 20,000 pounds with lift heights up to 180". Lift and telescopic boom action is hydraulically operated with a built-in pressure relief valve for safety to prevent overloading.

Propulsion is electro-mechanically operated and battery driven with solid state controls for smooth acceleration up to four miles per hour and gradual deceleration. When the control handle is released, the mechanical brake is applied automatically. All the controls are push button conveniently located in the steering handle.

The unit is completely self-sufficient and can be transported any time any place wherever it is needed. The crane is all steel, heavy construction and quality built for years of trouble-free operation at low cost for high performance operations.

For more information, please contact:

Vida Novak
Air Technical Industries
7501 Clover Ave.
Mentor, OH 44060
Ph. 440-951-5191
Fx. 440-953-9237
Ati@airtechnical.com
http://www.airtechnical.com