Compact Projector suits mobile projection needs.
Press Release Summary: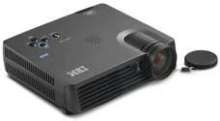 M400 Projector syncs in seconds and features 1024 x 768 XGA resolution and 120 W lamp with 1,100 lumens output. Compact, sleek design measures 7.2 x 6.4 x 1.9 in. and weighs 2.4 lb. Unit delivers 1800:1 contrast ratio, digital ±15° vertical keystone correction, and remote control with integrated laser pointer and mouse. Equipped with 0.5 W mono speaker, product uses front/rear, desktop projection method.
---
Original Press Release:

IBM M400 Projector - Lightweight, Compact, and Easy to Connect


At a glance

The IBM M400 Projector features:

· DLP technology by Texas Instruments: 0.7-in XGA (DDP2000 chipset)
· Extremely lightweight: 1.1 Kg (2.4 lb)
· Lumens: 1100 ANSI Lumens
· Lamp Life1: 2,000 hours
· Native resolution: XGA (1024 x 768)
· Contrast ratio: 1800:1 (Full on/Full off)
· Brightness uniformity average 4 corners/center at 9 points
- Typical: 90%
· Compact size: 48 mm x 182 mm x 162 mm (H x W x D) standard 1.9 in x 7.2 in 6.4 in
· Keystone correction: Digital +/- 15° vertical
· Audio: 0.5-watt mono speaker
· Auto shutdown: When no video signal is detected after several minutes, power shuts down to conserve lamp life
· Remote control: With integrated laser pointer and mouse control
· Easy to connect: Uses DVI-I to VGA connector
· Security lock slot: Lets you lock the projector to a secure surface with optional locking cable to reduce chance of theft
· Projection method: Front/rear, desktop
· Additional features: Elevator and leveling feet
· Carrying case, remote, and all cables required to attach to PC, DVD, or VHS

The IBM Projector Lamp for M400 Projector features a 120-watt lamp (1100 lumens output).

Overview

IBM M400 Projector Mobile and corporate customers can make a big impact with their presentations and present with confidence with the new M400 Projector. This ultra-compact (lightweight and portable) projector is ideal for all mobile projection needs, whether on the road, in classrooms, conference rooms, boardrooms, or at home.

Global travelers and mobile professionals will enjoy this reliable projector that syncs in a matter of seconds.

· Lightweight: Only 1.1 Kg (2.4 lb)
· Compact, sleek design: 2-inches thin

IBM Projector Lamp for M400 Projector

This lamp features a 120-watt lamp (1100 lumens output).

Key prerequisites

The M400 Projector is supported on ThinkPad® and ThinkCentre(TM) (and NetVista(TM)) and other PCs capable of conforming to VESA standard modes.

Planned availability date

May 28, 2004

1 Lamp Life is a measure of brightness degradation only and is not a specification for the time it takes a lamp to fail and cease light output. Lamp Life is defined as the time it takes for more than 50% of a lamp sample population to have brightness decrease by approximately 50% of the rated lumens for the specified lamp. For example, if the defined life of your lamp is 2,000 hours and its brightness is rated at 1100 lumens, then there is a 50% chance that over 2,000 hours of run time, your lamp will have decreased its brightness by 50% to approximately 550 lumens.

More from Sensors, Monitors & Transducers